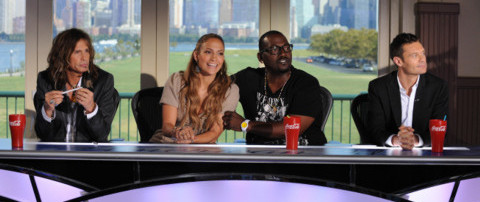 Fox spent their holiday week sending out preview copies of American Idol (where's the love, Fox?) and while I didn't get to watch it myself the early reviews have been very positive, especially for Aerosmith front man, Steven Tyler.
Orlando Sentinel's Boedeker had this to say about Tyler:
Over the weekend, I saw 23 minutes of this season's "Idol" auditions, courtesy of Fox. Tyler emerges as the star on a panel that works efficiently. A three-judge setup is far better than a four-member panel. Randy Jackson is more businesslike than ever, and Jennifer Lopez is charming.

But Tyler jolts the show. He makes faces, sings along with the hopefuls, mouths the words, provides percussion by banging on the desk, even howls. You keep watching to see what he'll do next. He also makes concise judgments.
Growing up as an Aerosmith fan has me predisposed to like Tyler while my all-around distaste for Diva JLo means she'll have to work a lot harder to win me over. Randy? He'll just have to limit his "dawgs" and "bombs" to keep me happy.
Which American Idol 2011 judge are you most anxious to see sharing his or her musical advice this January?