Four weeks remain in the American Idol 2011 competition leaving four more Hopefuls to be eliminated before we crown a new American Idol. While the judges like to say its anyone's game I think most of us know better than that.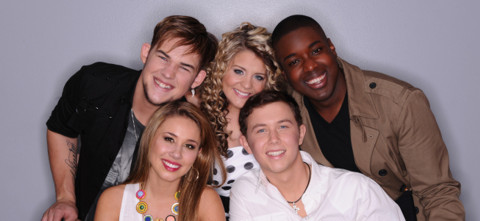 To keep the 90 minutes runtime filled the remaining Top 5 singers will each perform two songs. One will be songs from the 60's, because that's hip and relevant, and the other will be modern to help balance out the fifty year old songs. Maybe next week they'll take on hits from Bach and Mozart! No word on what restrictions will be placed on "modern" songs, but hopefully they do better than letting Scotty sing an 80's song for the 21st century theme…
Come Thursday night's American Idol results show we'll see Jennifer Lopez get out from behind the judges' table and perform "On the Floor" alongside Pitbull. The non-Idol guest performer will be Lady Antebellum and though FOX says they'll also be singing "On the Floor" I'm guessing that's a typo in their press release. Or maybe it'll be a rap battle! Yeah, probably not.
Ratings took another dip for American Idol this past week. Thursday night's results show was down 5% in viewers from the previous week. As we get a little closer to the finale I'm still expecting things to pick back up, but maybe I'll be surprised.
We're running a free giveaway for a "skin" for your phones and devices along with a chance at two American Idol finale tickets. You can enter to win everyday from now until May 13th, so don't wait.
So which singer are you most excited to see perform this week on American Idol?