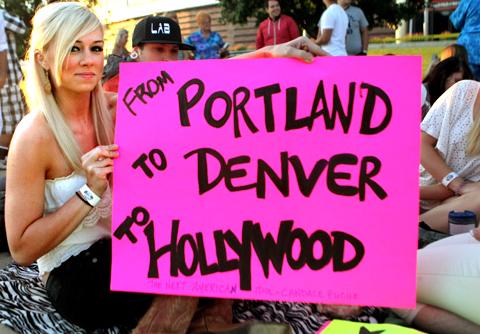 American Idol 2012 takes us to Aspen tonight for another round of auditions as more hopefuls sing for their shot at a golden ticket to Hollywood.
"It may be cold, but the contestants are hot," says the Fox announcer in the promo for the auditions. The promo (watch it below) also promises to show us the most colorful American Idol contestants so far this season. So maybe that means they'll finally be delivering some of the bad auditions that helped make the show such  a success.
And in case you didn't know this, these auditions were filmed months ago and there have been plenty of spoiler reports on who has made it and who hasn't. So, if you're too impatient to wait, you can find out if your favorite auditioners have made it through Hollywood week by checking out our American Idol 2012 spoilers.
The one-hour episode airs at 8 pm ET/PT on Fox.
Be sure to join us on Facebook and Twitter to get the latest American Idol news.