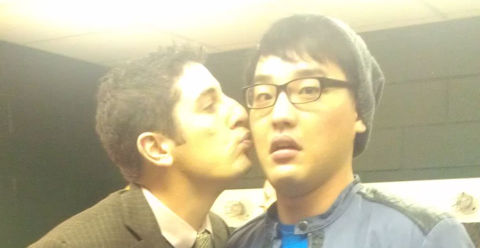 American Idol 2012 contestant Heejun Han has landed in Canada in what he likes to call "Global Heejun Domination Phase 2." Just kidding. Heejun arrived in Alberta, Canada to tape his appearance on "Live! with Kelly" for Monday's broadcast.
Han announced his travels on Twitter along with his first movie crossover debut: "American Piedol."
AMERICAN PIEDOL. twitter.com/HHanAI11/statu…

— Heejun Han (@HHanAI11) April 1, 2012
Looks like Heejun met with Jason Biggs who is scheduled to appear on Monday as well to promote the upcoming "American Reunion" movie. I'm not sure, but an "American Piedol" movie sounds a little more interesting to me than the "Reunion" one.
Han's promotional tour will continue once he returns to America so you'll see him on plenty more shows like he did last week for The Tonight Show. I wouldn't be surprised if American Idol found some way to get him involved again in the rest of the season since we've got nearly two months left to go in Season 11.
Don't forget to tune in Monday morning for "Live! with Kelly" to catch Heejun Han's post American Idol 2012 appearance.