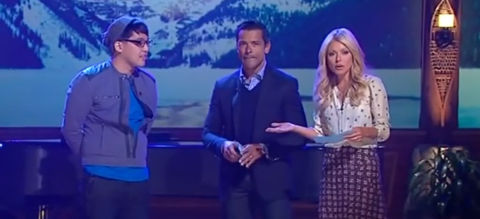 American Idol 2012 eliminee Heejun Han has been making the rounds on television these past few days and just as you'd expect he's making plenty of jokes with each appearance.
Yesterday Heejun appeared on "Live! With Kelly" to perform "A Song For You" and you can watch the performance below. After he finished he spoke with Kelly Ripa about his departure from American Idol along with his current marital status with judge Jennifer Lopez. I wonder how she'd feel about him getting kisses from Jason Biggs backstage??
Then this morning Heejun Han paid a visit to NBC's "The Today Show." No singing this time around, but he did take the opportunity to line up a dinner date with one of the co-hosts before making more jokes about being married to JLo.
Noticeably absent from both appearances were any comments about watching The Voice instead of American Idol 2012!
Update: Heejun went on The Wendy Williams show this Wednesday. Here's his interview: