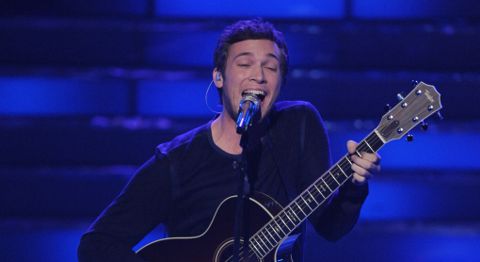 Phillip Phillips delivered a final round of performances last night on American Idol 2012 that shook the Nokia Theatre's crowd and surely pleased his fans.
Phillip started out the night with Simon Fuller's pick, "Stand By Me." JLo called Phillips a "modern day crooner" with "soulfulness" and "originality" after the first round while Randy ultimately gave the initial round to Phillip's competition.
The second round of American Idol presented Phillip with a chance to perform his favorite song from earlier in the season. He decided to go with Billy Joel's "Movin' Out" which surprised a few of us that that was his favorite. Randy called the second round as a tie but Lopez gives it to Phillip for his performance for delivering "authentic Phillip."
Finishing out the night with the last performance of the American Idol 2012 finale was Phillip Phillip's delivery of "Home," his potential coronation song. It was quite a delivery complete with a stage full of backup singers and even a marching band that was powerful enough to bring the judges to their feet for a standing ovation. Randy pours it on. "Dude. I loved the song. I loved you. I loved the production. I loved the marching band. Everything about that was perfect!" Lopez praised Phillip for what she felt was a unique sound and performance. Tyler told Phillips, "I think you were perfect tonight and I think you are the man."
Were Phillip Phillips three performances enough to crown him the American Idol 2012 winner? The judges certainly left satisfied with his delivery. Were you? We'll soon find out! Share your thoughts on Phillips' performances from last night on Idol.