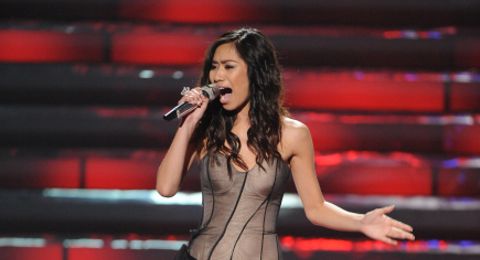 Jessica Sanchez delivered big performances last night on American Idol 2012 and here's your chance to watch them all over again.
Jessica lead off the American Idol night with her rendition of Whitney Houston's "I Have Nothing." Simon Fuller hand picked this song for Jessica and she didn't disappoint her fans. JLo praised Jessica for her "amazing vocal prowess." Randy gives the first round to Jessica for her performance.
Jessica Sanchez's second performance of the night featured Celine Dion's "The Prayer." This was Jessica's selection for her favorite performance from earlier in the season and one that helped push her ahead early in the race. Steven Tyler calls the second round in Jessica's favor while Randy calls it a tie.
Closing out her trio of performances, Jessica delivers "Change Nothing." This would be her coronation song should she be crowned the winner of American Idol 2012. Randy doesn't love the song, but he is pleased with how she delivers it anyway. JLo agrees that the song was not the right one for her, but appreciates what she brought to the song. Steven echos his co-judges and says it was just not the right song, but he knows she can sing. Jessica says she wanted to go "more urban" but ultimately went with this song anyway.
Overall the judges were very positive and support of Jessica Sanchez last night on American Idol 2012. They really weren't thrilled with what she picked for her final performance. Will that hold her back from the crown or will the audience see through that and vote her to the big win? We'll find out tonight on the American Idol results show finale.