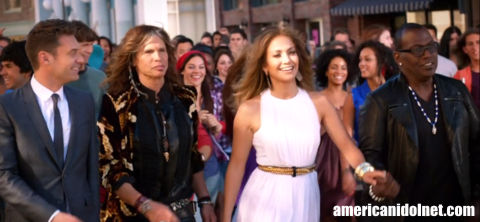 American Idol 2012 premieres tonight on FOX starting at 8PM ET/PT with a full two-hour episode. We'll be treated to dozens of performances by Idol hopefuls lucky enough to come back for a chance to deliver their very best to Steven Tyler, JLo, and Randy Jackson. Then tomorrow night we'll get another dose of auditions with Thursday's 8PM ET/PT one-hour episode. The fun doesn't stop there though. American Idol returns on a special Sunday night episode right after the NFL playoffs, probably around 10PM ET. Check out the rest of the Idol 2012 schedule.
Remember these auditions have all been recorded months ago. If you really want to get ahead of the curve then check out our American Idol spoilers section for the latest rumors and leaks on who has made it through to Hollywood and even on to the Top 42 for Season 11.
Be sure to join us on Facebook, Twitter, and grab our daily email updates to get the latest Idol news all season long. You'll get some of our timeliest updates there.
We're excited to have all of you joining us again this season. Just like last season we'll have the American Idol chat room open for live show discussions and the comments section has been improved with Disqus. You can now leave comments using your Facebook, Twitter, Google, etc. account logins or even by creating your own free Disqus profile. Like all changes, I'm sure some will be upset, but the improvements, like editing your own comments and flagging nasty comments, will be a great addition this season. Try it out and see what you think.