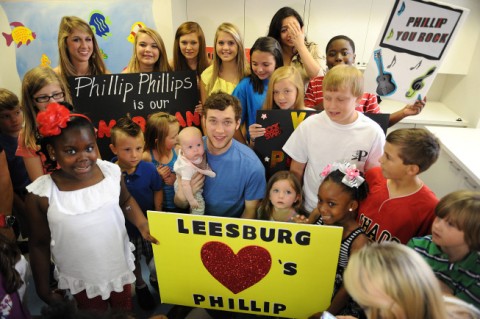 It's American Idol 2012 Top 3 week and that means only four more episodes remain until the season 11 winner is crowned.
This week, the American Idol Top 3 are heading home for their hometown "heroes welcome" where they'll find out what songs the judges and mentor Jimmy Iovine has chosen for them. They'll sing three songs each: a song picked by the judges, a song picked by Jimmy and a song of their own choosing. I think it's a safe bet to say the songs that will make the most sense will be Jimmy's choices.
On Thursday night we'll learn the final two that will compete in the finale the following week. Will it be Jessica Sanchez, Phillip Phillips or Joshua Ledet to be the last contestant eliminated? Also Thursday, Lisa Marie Presley will perform (really? she's trying the music thing again) and so will season 8 runner-up Adam Lambert.
It's going to be quite a week for American Idol. Don't forget to keep yourself locked in on American Idol Net and our Facebook & Twitter for all the updates, recaps and results as we head into finale week next week!