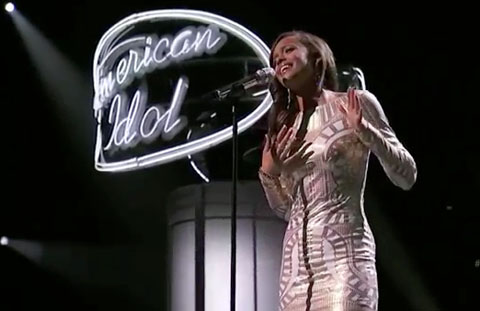 Last night on American Idol 2013, we got to see the final five girls who will make up our Season 12 Top 20. Among those were Aubrey Cleland, who wowed the judges with her performance of Beyonce's "Sweet Dreams."
Aubrey definitely has the look down as Nicki pointed out. And others reminded us that she's very marketable.  They guys (if there are any watching anymore) will love her. Yeah, OK, but can she sing? I think her performance was completely adequate. Was I jumping up and down? No. Jessica Sanchez performed this song way better last year, so I think a lot of people had pretty high expectations.
But she should make a pretty solid addition to this season's Top 20. Below we've got her performance video from last night. Let's take another look at and listen to Aubrey's version of "Sweet Dreams."
What do you think? Does Aubrey Cleland have what it takes to be the next American Idol?