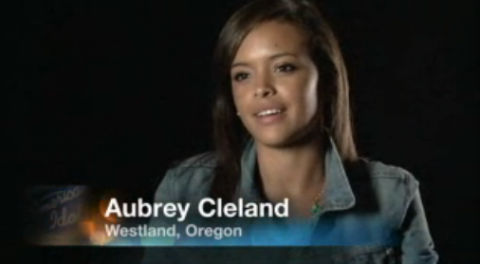 It looks like Aubrey Cleland might be hoping the third time is the charm for her American Idol dreams. According to the American Idol 2013 Top 40 spoilers, Aubrey has at least made it to Hollywood week this year.
Last year she made it to the Green Mile episode where she was cut. And in season 10 she was cut during Hollywood week.
Below is Aubrey singing Kelly Clarkson's "Beautiful Disaster." I'm not sure the venue, but it's clearly not a large sophisticated one, so the sound is a little meh, but her voice is pretty solid. I don't remember her from last season, which means she either didn't get much airtime, or I was zoning out because I find the pre-live show coverage tedious.
What do you think of Aubrey? Do you think the third time will be the charm for her?
Here is Aubrey's interview after receiving her golden ticket last year:
Remember these are just rumors. And even if the Top 40 rumors are true, that does not mean that they'll make to the live shows or any other format American Idol might be observing this year.