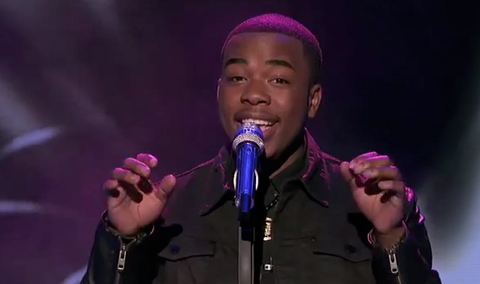 We said farewell to Burnell Taylor on American Idol 2013 Thursday night when Nicki Minaj and Idol producers refused to use their save on a guy, making him the fourth guy in a row to be eliminated.
Burnell was the most talented guy in the Top 10, in my opinion, and the only remaining talented guy in the Top 7. But now he is done and only one guy remains. Producers should be very, very happy. So in honor of Burnell's elimination, we'll look back at our favorite Burnell moments.
"This Time," Sudden Death Rounds. This is the song that made me a Burnell Taylor fan. This song is amazing. It's so chilling and beautiful. It made me look up John Legend's version and download it. Which I almost never do. This is definitely his best performance during his time on Idol.
"My Cherie Amour," Top 8 Week. This song was right up his alley. He's got this classic, but unique sound. He sounds like he stepped right off an American Bandstand stage circa 1959. But again, with a twist. Loved this performance.
"I'm Here," original audition and again in Hollywood Week. Burnell first wowed judges with his version of the song from The Color Purple and perfumed it again in Hollywood week.
Will you miss Burnell on American Idol 2013?