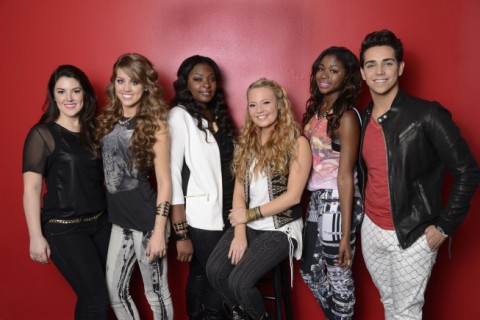 Last night on American Idol 2013 we said goodbye to Burnell Taylor as Lazaro Arbos was placed in the Top 3. So needless to say my predictions were blown out of the water. Actually, this week's results look more like my earlier predictions when I had Lazaro in the Top 3 (before he started forgetting lyrics and sounding awful).
So once again, it's time to reassess where everyone stands and what might happen from now until the finale.
The Top 6 Assessment 
1. Angie Miller. I think Kree Harrison continues to gain some steam, but I think Idol wants to market Angie Miller more. So they'll surely figure out some way make Kree fall behind in the votes. So I'm keeping Angie right here. Final Placement Prediction: Winner of American Idol 2013. 
2. Kree Harrison. I think Kree is a sure thing for this spot, if not the winner. But like I said above, I feel like Idol producers are pulling for Angie and they've gotten their way every other time this season, so Kree remains in this spot this week. Final Placement Prediction: 2nd place. 
3. Candice Glover. I don't think Lazaro will stay in the Top 3 for long. Even though it would be hilarious if he did. So I'm moving Candice back into the Top 3 where she belongs. Final Placement Prediction: 3rd place.
4. Lazaro Arbos. Lazaro will hold on for two more weeks. But then Idol producers will disqualify him for some secret scandal or make him sing death metal or something. They'll make sure he's not around for a finale. Final placement prediction: 4th Place. 
5. Amber Holcomb. Even though the judges are trying their hardest to make Amber happen, America isn't having it. I mean they're falling for it a little bit. She went from the bottom 3 to the middle of the road. So it's working a little, but I don't think it's working enough. Final placement prediction: 5th place. 
6. Janelle Arthur. I think Janelle will be in the bottom next week, will sing for her life and will get the judges' save. And then the following week she and Amber will go home in a double elimination. From Kree being the better country singer to Lazaro's pity votes, Janelle is out  soon. Final placement prediction: 6th place. 
What are your thoughts? Who has what it takes to win American Idol 2013?