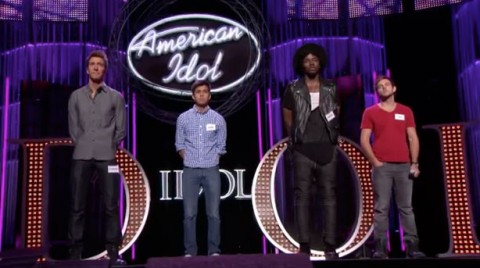 And since the American Idol 2013 Hollywood Week good performances are slim pickings, let's take another look at one of the really bad ones.
I picked this one because on of the guys in this group is among the Top 40 and I find that shocking based on this horrid performance. I feel like in seasons past, NO one from this group would have gone through to the next round.
Paul Jolley, Will White, Clint Belew and Steven Curd thought they picked an easy song when they chose "Don't You Wanna Stay" by Jason Aldean and Kelly Clarkson because it had "like seven lyrics". It turned out to be anything but.
They're all clearly talented singers, but this whole audition just feel apart.
We've got the performance video below. Let's take another look at and listen to The Taylors' attempt at "Don't You Wanna Stay."
What do you think of this group? Do you think this performance is forgivable (keep in mind this is a singing competition)?