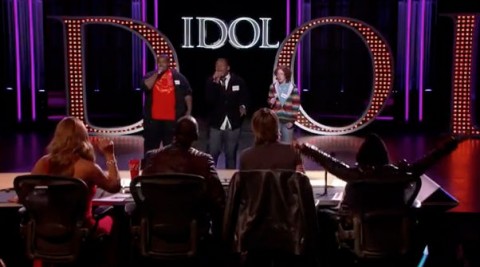 As I continue to pull out standout performances from last night's American Idol 2013 Hollywood Week debut, I realize that there weren't that many standouts. But thankfully, Charlie Askew, Nick Mathis and Curtis Finch Jr. former The Couch Potatoes and delivered a Bruno Mars song better than Bruno Mars.
The three guys were definitely having a rocky time. Charlie was ill and Curtis was being a diva, but in the end, they pulled it all together for one of the few good performances of the night. The judges were into the performance as well and the three of them were sent on to the next round of Hollywood Week.
We've got their performance video below. Let's have another look at and listen to The Couch Potatoes with "The Lazy Song."
What do you think of these three guys? Is one of them the next American Idol?