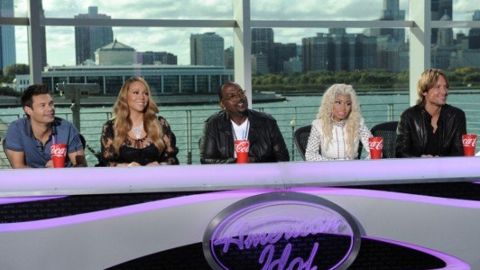 The new judges panel for American Idol 2013 sat down to discuss the show, what makes it work, and their experiences so far for the mostly new judges as they join the returning Randy Jackson.
Keith Urban explains the value of the diversity of the judges' panel as what three judges might not like the fourth can find something in there.
Nicki Minaj talks about how she had to go back and really think about what makes American Idol the gold standard that it is. I don't think she gives an answer, but she's thinking about it, people!
Randy Jackson points out that Idol produces singing stars when you consider ten of the eleven winners have produced multi-platinum albums. Is that accurate? Well it's Randy, so I'll trust him.
Then you've got Mariah Carey who appreciates the opportunity they're offering the the doors being opened for these American Idol Hopefuls.