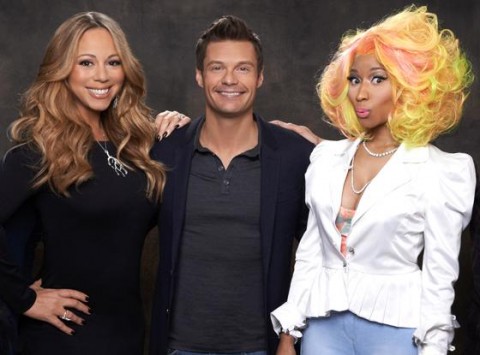 American Idol 2013 is still months away from airing and new judges Nicki Minaj and Mariah Carey are already involved in a heated feud.
There have been rumors that the two were not getting along for days now, and on Thursday, Mariah Carey confirmed that there's been an issue or two to Barbara Walters, which she discussed on The View. Mariah told Barbara in a pre-show phone interview that several people heard Nicki say that "If I had a gun, I would shoot the b***h," referring to Mariah after the two had a disagreement on set about an auditioning contestant.
"She said there were staff members that heard it, producers, hairdressers, other people," Barbara said. Mariah also told her that she "doesn't feel comfortable emotionally." Mariah says she doesn't plan to quit the show because she's really enjoying her job mentoring the young singers.
Nicki fired back at what Barbara said Mariah said (is this 8th grade or what?) via Twitter. Or at least I think it was firing back? I'm not exactly sure. "Hey yAll. Lets just say nicki said smthn about a gun. ppl will believe it cuz she's a black rapper. Lmao. I'll then hit up Barbara n milk it" she tweeted.

What are your thoughts on the Nicki and Mariah feud? Do you think they'll make it a whole American Idol season without having a throw down? American Idol 2013 premieres in January.