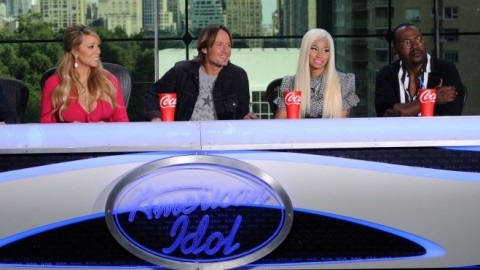 The ongoing feud between new American Idol 2013 judges Nicki Minaj and Mariah Carey has been all over the internet for the past couple of weeks and American Idol producers have finally spoken out on the drama.
"This is one of the best, most passionate, dynamic and invested judging panels we've ever had," Producers said in a statement. "We love and support all of the judges and the fantastic work they are doing, and we can't imagine a better group to find the next American Idol. Despite all the accusations and media speculation — much of which is inaccurate — production is going extremely well today and the judges are focused on finding the best talent here in Baton Rouge."
The View host Barbara Walters has been at the center of all of this as she has been following the drama and keeping up with Mariah Carey on how it's going. According to Barbara, Nicki has not apologized for the alleged remarks she made to Mariah.
"Nicki walked off the set and multiple people heard Nicki say, 'If I had a gun I would shoot the b****," Barbara reported. "Nicki has not apologized and since then they have been together at meetings with producers and judges."
Barbara added that Nicki said the two may fight again but Mariah claims she will not partake in another battle. We shall all see.
What do you think of this feud? Divas being divas or is it a publicity stunt?