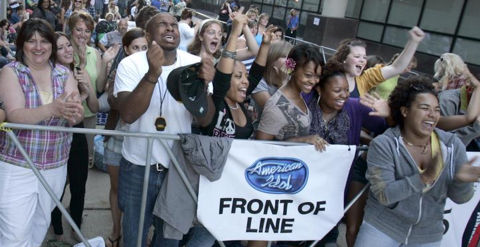 On Friday the new Idol judges headed to Oklahoma City for round two of the American Idol 2013 auditions. Gone are the massive crowds exchanged instead for up close and personal time with the decisions makers.
Over the summer more than ten thousand Idol Hopefuls arrived for their chance to audition but this time around it closer to seventy singers vying for their ticket to Hollywood. Each of the judges gave advice and catch phrases to the local affiliate KOKH FOX 25 as they arrived for the follow-up audition rounds.
"I hope we find an American Idol Winner here. C'mon Oklahoma!" said [Randy] Jackson.

"There's no music, there's no audience, you stand there and sing acapello in front of the four of us, that's pretty nerve-racking," said [Keith] Urban.

Judge number three, Nicki Minaj, offers some advice, "Think of us as your friends."

Minaj reminds contestants they're here to help, "They shouldn't be nervous. We're rooting for them."

As the fourth judge arrives, contestants turn back into fans. "Mariah's oh my God! It's Mariah Carey!" said Marange.

"I'm happy to be here and really to see all the young talent. They should just come in and be them and do the best they can," said Carey.
Check out the video below for more action from the American Idol visit to Oklahoma City last week.