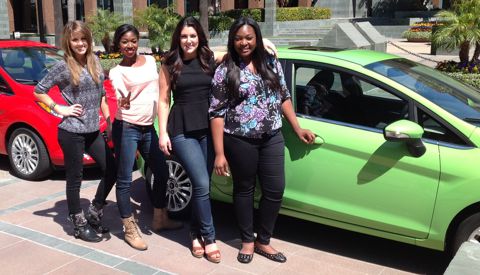 Tonight on American Idol 2013 the Top 4 singers will return to the stage to learn their fate, but while the hour show will focus on the next elimination it won't all be stress for these finalists.
Ford's weekly "Ford Fiesta Movement" missions are back again. Last week we saw the Top 5 go on a scavenger hunt for Matthew Morrison and this week they're at it again but with a new target.
Our spoilers reveal this week's mission will be "Chasing Ryan" and will put Amber, Angie, Candice, and Kree back in the driver's seat of their Ford Fiesta 2014 as they hunt down host Ryan Seacrest. No word yet what they'll do once they catch him, but we can only imagine it'll be horrific. No, wait. Not "horrific." I mean't "fun." We imagine it'll be fun times for all. Maybe next week Ryan can help the finalists go on a new scavenger hunt for some judges that don't squabble on live television!
Get ready for tonight's American Idol results show plus the all new Ford Fiesta Mission video with this week's agent "Timothy DeLaGhetto".