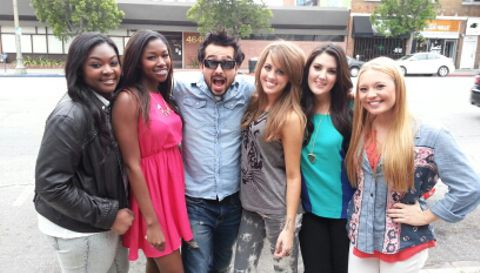 The American Idol Season 12 finalists have an incredibly busy schedule each week and barely find time to sleep, but despite all that work they still manage to squeeze in their weekly Ford Fiesta mission adventure.
Last week we got a fun Q&A from Deena and the Top 6. This week it's Joe Penna's turn to meet and report back on the Finalists' mission with a behind the scenes look at how it all came together.
The Top 5 are on a mission, of course, and this week it's a "Celebrity Scavenger Hunt" which ends with, wait for it, a special mystery celebrity. While we can't tell you who it is, we're sure this guest appearance will make you happy. That's all I can say!
Later today we'll get Joe's video from his time with the American Idol 2013 Top 5 finalists and add it here as an update, but for now you can speculate on just who that mystery celebrity will turn out to be. Find out tonight on American Idol's results show!
Update: We've got the Ford Fiesta mission "behind the scenes" video ready for you and it even includes tonight's surprise celebrity appearance. Watch it below and spoil away!