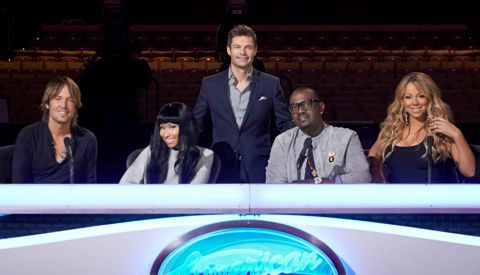 At the end of this week's Top 4 Performance Show on American Idol 2013 host Ryan Seacrest revealed a twist would be announced on tonight's results show. The sudden arrival of a twist would normally raise great speculation, but based on everything we've been anticipating, there's little doubt of what will happen.
Last week I gave an in-depth justification of why we strongly expected the Judges Save to be used. It was the last week of its availability (based on everything we've come to know about the Save), the American Idol schedule required an extra week, and all the boys were finally eliminated.
I was wrong.
The Save wasn't used and Janelle went home during last week's show. So what gives? The schedule's current trajectory lands us at the season finale a week early. That obviously can't happen. New twist enters stage right.
Ryan Seacrest's announcement of an upcoming twist has to be related to an extension of the Judges Save deadline. Earlier this week I wrote how Janelle revealed in an exit interview that production ("they") had removed the Judges Save's expiration date altogether. "Then they told us they had to use [Judges Save] before the end of the year, but they didn't really tell us when the cutoff was," said Janelle.
Tonight's twist reveal should allow the Judges to save someone before the season finale. I speculated this could be a set up for a Top 3 season finale, but that seems bulky and misses the stand-off excitement we're used to seeing. In that case we should expect a stay of execution on either American Idol 2013 Results show tonight or next Thursday.
What do you think will happen with this American Idol twist?