The American Idol 2014 judges panel has changed quite a bit from last season, and so far it looks like a change for the very good.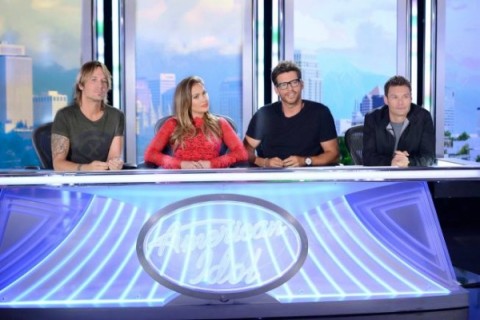 American Idol judges Jennifer Lopez, Harry Connick Jr., and Keith Urban appeared on Monday at FOX's Winter Television Critics Association event to preview the upcoming winter season debut of shows, and that includes the return of American Idol!
click images to see full-size view
FOX shared photos of all three new judges at the FOX Winter TCA event, but no sightings of Randy Jackson who is now a mentor rather than a judge.
The Los Angeles Times reports that this group of judges was already obviously a big improvement over last year's disaster where judges wouldn't even make eye-contact for such talks. Another change is swapping out their top leadership.
Fox, instead, is hoping yet another makeover will add some sheen to its once-golden egg. It does so without "Idol's" longtime producers Nigel Lythgoe and Ken Warwick, as well as Mike Darnell, Fox's head of alternative programming — the show's biggest champion.

"What we've done is make a lot of small changes," said Executive Producer Trish Kinane. "We didn't want to do anything radical."
The easiest metric for this season's success will of course be American Idol ratings and after the previous season's dip in numbers it shouldn't be too hard to recover from those. Fingers crossed!
Image credit: Scott Kirkland / FOX