American Idol 2014 judge Harry Connick Jr. and host Ryan Seacrest really hope discontented viewers will give the show another chance for the new year. During a radio interview this past weekend, Ryan practically begged the show's former fans to give American Idol season 13 a shot to win back their love. New judge Harry Connick Jr. said this year the show is "going to be back on track" and everyone wants to focus on finding truly great talent for 2014.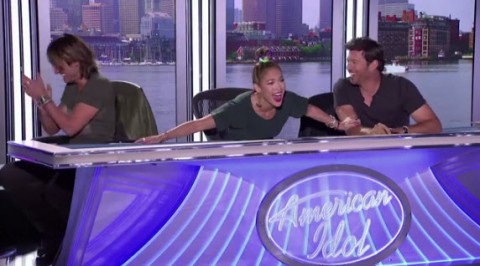 "I will say this to those who have watched the show throughout the years and maybe they didn't watch last year," Ryan Seacreast said at Z100's Jingle Ball in New York City. "I ask them to come back and give it another shot this year. The judges are so fun, and they are having such a good time, and they get along with each other so well that I think you will see your old American Idol back on the air."
Harry Connick Jr., who is the only brand new member of the American Idol judges panel this year, shared similar sentiments about the upcoming season. [Jennifer Lopez and Keith Urban] are really focused and American Idol has a track record of making big stars and there is a reason for that," Harry said. "It got a little bit off last year, and it's got to be about the contestants, and I think all of us are really concerned about find the best person."
American Idol 2014
premieres on January 15. We are actually feeling very hopeful about season 13 and hope you will be tuning in with us to see if Ryan and Harry are right about the show really returning to the roots that made it number one!