Watching the American Idol Top 13 contestants learn they had been chosen as finalists was one of the biggest highlights of the competition so far this season. We love seeing the wild joy in their faces when an American Idol hopeful realizes they have made it into the finals and could possibly be the next Kelly Clarkson, Phillip Phillips or Carrie Underwood in the making.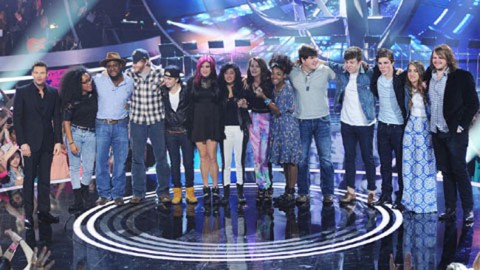 Of course, you don't even have to be an American Idol winner to make it big after being on the show. Just take for example Oscar-winning actress and Grammy-winning singer Jennifer Hudson. Or Glee guest starring former runner-up Adam Lambert. Even for those who won't become superstars, being on the show can often at least launch them into a career of being able to just do music for a living. For many artists, just that alone is an enormous dream.
We don't know yet who will emerge as the stars of the future from the American Idol 2014 finalists this season. Right now, they are just nervous bundles of potential about to go into their first live finals show. Now is the time that we love the most, when all of them are dreaming big and hoping for the moon. We wish them all good luck!
Relive the joy of the American Idol 2014 Top 13 in the moment they knew they'd made it in our photo gallery below!
American Idol Top 13 Photo Gallery – The Moment They Knew
(Click the pics for bigger versions or to scroll through)
Photos: FOX/AmericanIdol.com