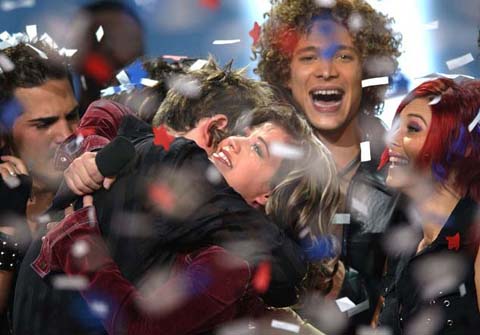 While there's been a lot of talk of the possible end of American Idol it's worth taking note of all the incredible talent and moments the series has given us over the past thirteen years. FOX Audio Central caught up with the Season 13 Top 6 contestants and spoke with them about their favorite moments in the history of American Idol.
Read through what each of the final six singers had to say and see if any of them surprise you with their picks of their favorite American Idol memories.
Alex Preston: "I was always into Adam Lambert. Me and my parents used to watch it all the time religiously and we always loved Adam Lambert."
Caleb Johnson: "I loved the stuff with Chris Daughtry. I remember watching that as a kid, and also Adam Lambert. I mean Adam Lambert just kind of just blew the roof off the show and just kind of and just really carved his own path, you know, from the show and what not and he was just an incredible singer, performer. I mean that's a rock star right there, both him and Chris Daughtry are two of the biggest stars to come off this show."
CJ Harris: "Ruben Studdard was on it and Chris Daughtry, all those guys. I mean, they're all amazing, you know. I think Chris Daughtry brung so much out of me, you know. I used to follow…you know, I follow Chris Daughtry on Twitter and his voice is just amazing. He has a different sound. I mean, he wasn't scared to be who he is and you know, he's just an awesome guy."
Jena Irene: "I remember when Carrie Underwood, when she won that moment and you know especially Jordan Sparks too because she was 17 when she won. That moment kind of was just so beautiful and I could just see myself being in that same exact moment."
Jessica Meuse: "I saw Kelly Clarkson and the other guy that was with her, Justin, and I mean it was fun. I was very young at the time so I didn't really think about it or anything, but it was just kind of cool because it was the first show of its kind to really come out like that."
Sam Woolf: "I like Phil Phillips a lot."
It's crazy to think how young some of these artists were when the show was just getting started and now here they are. American Idol sure has a rich history!
Source: FOX Audio Central