We have new American Idol spoilers rolling in as 2015 Hollywood Week kicks off this weekend in Los Angeles. In addition to a growing list of Golden Ticket winner names & info, we've also learned about an entirely new twist for HW this season.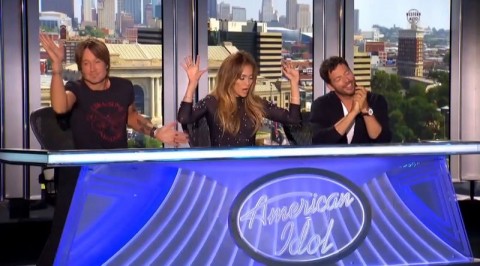 The majority of fans seemed to be rather outraged last year by the American Idol 'Hollywood or Home' sudden death twist that took place right after the hopefuls landed in Los Angeles. The contestants went straight from the planes to a hangar at the airport and had to perform on the spot. Anyone who didn't thrill the American Idol judges enough was sent home before they even got to unpack their suitcases.
From what we're hearing from notorious American Idol spoilers source The Idol Pad, it doesn't look like FOX is going to repeat that aggressive twist this year. At least, not quite exactly in the same way. Apparently there is still going to be a sudden death elimination right at the start of American Idol season 14 Hollywood Week. However, it won't be a live performance that the judges will be using to decide who goes home.
Instead, the Golden Ticket Winners had to "choose a single song, record a video of themeselves singing it, and submit it to producers ahead of time for casting purposes, presumably for the judges to assess and review." These videos had to be sent in before the hopefuls arrived in L. A. for Hollywood Week and, according to The Idol Pad, "select contestants will be eliminated en mass upon arrival in California, in a similar manner to last season's controversial 'Hollywood or Home' round."
What do you think of this alleged new twist to once again eliminated a group of hopefuls before they even get the chance to really compete live against the other contestants? Let us know your thoughts in the comments below!