The American Idol 2016 finale kicked off with an emotional moment few fans of the show will ever forget. As the lights rose on the stage for the very last time, La'Porsha Renae, Trent Harmon, and the rest of the Top Ten rang out with "One Voice" in a beautiful harmony.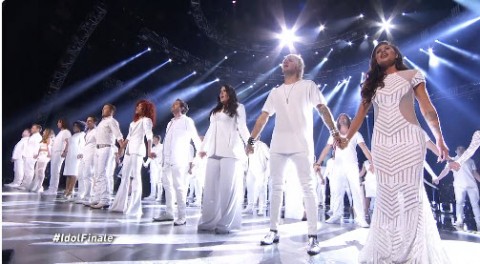 They were joined slowly by dozens of American Idol alumni raises up their voices to join them as they walked onto the stage. You just couldn't help but tear up a little. What a beautiful moment to share with the fans who have loyally watched the series for so many years! We can't believe it's come down to this one last evening and either La'Porcha Renae or
Watch our Idols past and present come together one last time with an emotional rendition of "One Voice." #IdolFinalehttps://t.co/b7LlFN8qfT

— American Idol (@AmericanIdol) April 8, 2016
Truly an astounding moment in time for our favorite hit reality TV show. We'll be watching this one a few times on repeat, our hearts breaking just a little bit more each time!