American Idol 2016 contestant Gianna Isabella is following in mom Brenda K. Starr's footsteps and hoping to make her own mark on the music industry. Gianna is ready to step out and be a star on her own, but it's not easy for her mom to let her go, as we see during her showcase solo rehearsal.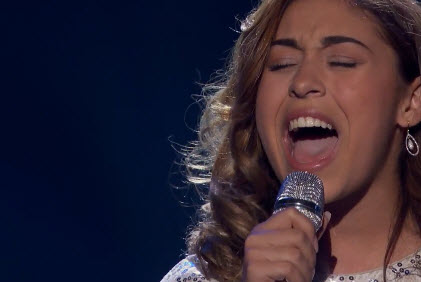 For the showcase solo song, Gianna chose to do her mom's hit single "I Still Believe" for the American Idol judges. Her 'momager' Brenda, apparently has a lot to say about her daughter's rehearsal, but musical director Rickey Minor isn't so happy about that. He tells mom and daughter that they need to let him do his job, and Brenda needs to step back. It all worked out in the end though, as Gianna nailed her solo and proved to the judges she can shine on her own!
Following in her mom's footsteps, @gianisabell is one step closer to becoming the next Idol. #IdolTop24https://t.co/EgkRWzErXn

— American Idol (@AmericanIdol) February 5, 2016
Check out the Gianna Isabella Top 24 profile page for more information on this dedicated young singer. Can't wait to find out if she made it through to the next round of the competition? Take a sneak peek ahead in the season on our American Idol spoilers page as soon as the next round of results are in!