The first set of contestants to face the American Idol judges during the infamous group round for 2016 included Kory Wheeler, Jordan Sasser, Jenna Renae, and Kelsie Watts. The four of them, going by the name Team Blue Eyes, chose to perform "Treasure" by Bruno Mars from the limited list of songs given to the contestants to pick from.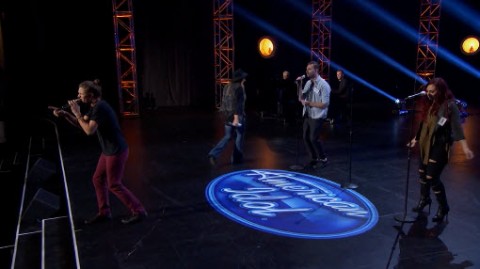 This was definitely one of the better starts we've seen to American Idol group round over the years. The group was cohesive, and all four of the contestants sounded quite good. Jenna Renae was the major standout to us, although Jordan Sasser showed the judges he could be "funkier" than Jennifer Lopez thought! Harry Connick Jr. gave all of the contestants a bit of a fright when he only asked two of them to step forward, but then surprised them by saying all four had made it through.
Great start to group rounds! Such an amazing performance of Treasure. #HollywoodWeek https://t.co/GuFEbLHgo3

— American Idol (@AmericanIdol) January 29, 2016
Can't wait to find out if Kory Wheeler, Jordan Sasser, Jenna Renae, and Kelsie Watts made it through to the next round of the competition? Take a sneak peek ahead in the season on our American Idol spoilers page!