Last night on American Idol 2016 we had America to partially thank for the Top 5 performances and let me just say that America shouldn't be allowed to make decisions any longer.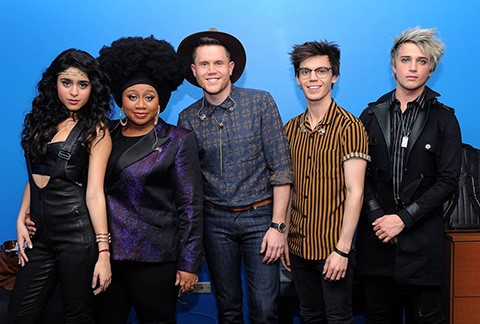 Some of the songs chosen for the contestants were just bad. Luckily each person got to sing two songs and round two was better for everyone. Let's get to this week's report card.
American Idol 2016 Top 5 Report Card
Trent Harmon, "Counting Stars." I wasn't a fan of this song choice. But we can't blame Trent; we can only blame America. It sounded great as always, but it definitely wasn't a song Trent should be singing. Grade: B+
Dalton Rapattoni, "Numb." Well this was boring. America got it wrong again. I mean, sure Linking Park seems like something Dalton could sing, but this was super boring. And it really showed us that Dalton isn't a great vocalist. His voice is actually pretty weak. Grade: C+
La'Porsha Renae, "Are You Ready For Love." Even thought this was a good song for La'Porsha vocally, it's not one I know. So another odd choice. But the performance was solid. It was emotional and strong and perfect. It was a bit slow, but that's being nitpicky. Grade: A
MacKenzie Bourg, "Wild World." This is a great song, but not a great song for MacKenzie. He made the best of it, though. Even though it came off pretty boring, he had fun with it and really seemed comfortable on the stage. He's a pretty likable, so that always helps. Grade: B+
Sonika Vaid, "Let it Go." This was a very smart song choice for Sonika. Not only did she get to do something that was showy enough to earn her the safe, it could earn her some votes. The vocals were solid and she's definitely opening up more than she used to. Grade: B+
Round 2
Dalton Rapattoni, "The Sound of Silence." This was probably the only performance of Dalton's I've thoroughly enjoyed. I think it was an actual brilliant performance. I've been pretty rough on him, but I loved this one. So I'm giving credit where it's due. Grade: A+
MacKenzie Bourg, "Billie Jean." This was a great effort by MacKenzie. He's had a few lows, but this was one of his highs — probably his highest high. There's not much else to say but this was just good. Grade: A+
Trent Harmon, "Simple Man." What a perfect song for Trent. Not only did it appeal to his southern roots, but it was a nod at the kind of guy he is. But there's nothing simple about his artistry. Trent nailed the performance once again and even brought Jennifer to tears. Grade: A+
Sonika Vaid, "Clarity." I loved how confident Sonika seemed. That being said, I didn't love the performance. I wouldn't have picked that song for her. It was just an average performance. Grade: B-
La'Porsha Renae, "No More Drama." This was a great song choice and a great performance. She poured every ounce of herself into the song. There sas so much power and emotion that this one had to close the show. It was flawless. Grade: A+
How would you grade the Top 5 performances?