We reported the American Idol 2016 Top 8 song spoilers earlier today and now that we've had time to let them sink in, it's time to pick those choices apart.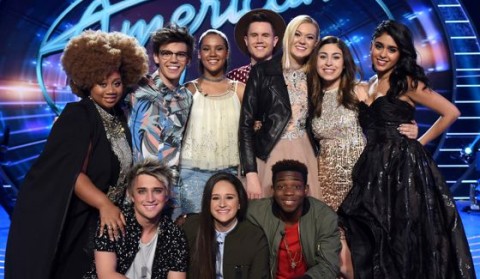 Keep in mind that only eight of these songs will be performed and mixed in with my thoughts on the choices will also be whether or not we will actually hear the song performed. So let's get to it.
La'Porsha Renae, "Halo" by Beyonce. First of all, let me just say this is my least favorite Beyonce song. I don't even think it sounds good when she sings it. It's arranged so oddly that it often sounds out of key. So I'm not a fan when someone else sings it. I think La'Porsha will kill it, but I don't think she'll have the same kind of moment she had last week.
MacKenzie Bourg, "I Wanna Dance With Somebody" by Whitney Houston. I love when someone picks an off-the-wall song choice and then totally flips it around into their own. That's what MacKenzie is going to do. He'll come out with his guitar and own this.
Tristan McIntosh, "Go Rest High On That Mountain" by Vince Gill. I'm not sure why she's not doing some modern country song, but I'm glad she's at least doing country. She's going to really have to turn this into something to keep herself afloat during next week's cuts. This song probably won't be enough.
Trent Harmon, "When A Man Loves a Woman" by Percy Sledge. This song is so, so overdone on singing shows that I'd rather Trent sing something else, but let's face it, when a dude sings to female voters, he's golden. This is a smart choice. Trent is competing with Dalton for that heart throb spot this season and that's quite the contest. I have a feeling Trent will turn this into something we've never heard before. I'm confident in his choice.
Olive Rox, "Trouble" by Pink. Huh? I like that she picked Pink, but why this song? Not a great choice. That being said, I'm not so sure we'll even get to hear her perform this week.
Gianna Isabella, "If I Ain't Got You" by Alicia Keys. This song. Not only is it bad grammar, but it's also boring and overdone. But that's kind of fitting for Gianna. I don't think we will be hearing her perform this week, anyway. Yeah, I think she's toast.
Sonika Vaid, "Since U Been Gone" by Kelly Clarkson. Sonika, Sonika, Sonika. Why did you pick this song? First of all, it's Kelly. Second of all, that's a huge song. Unless she turns this into a slow song, I don't think this is going to be good. And I love Sonika. Maybe she'll prove me wrong.
Dalton Rapattoni, "Radioactive" by Imagine Dragons. This pick makes a lot of sense for Dalton. He'll perform it perfectly and sail on through next week. But I will say I'm almost as sick of hearing Imagine Dragons as I am hearing Ed Sheeran and Sam Smith.
Avalon Young, "Earned It" by The Weeknd. YES to this. I love The Weeknd and her picking this song from "Fifty Shades of Grey" is bold. I think it's a great choice for her, but I'm not so sure she'll get to sing it. She's at great risk of going home this week and missing the Top 8.
Lee Jean, "Use Somebody" by Kings of Leon. I feel like Lee is totally a Kings of Leon kind of dude, but I think he needs to branch out. He's up against some tough singers and I think this choice could put him at risk next week.
What do you think of the song choices for this week?