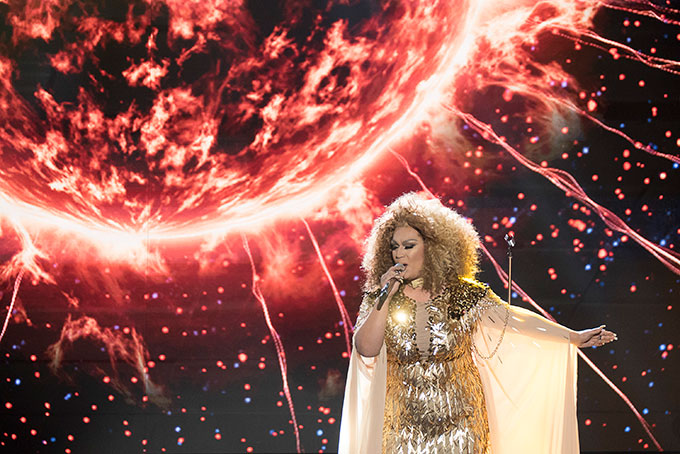 There has been a lot of debate over why American Idol 2018 finalist Ada Vox was voted off the show Sunday night.
Some American Idol fans on social media are saying Ada was only voted out because she's a drag queen, but American Idol runner-up Clay Aiken, who himself is a part of the LGBT community says that has nothing to do with why she was sent home.
"Someone needs to be real here," Clay Aiken wrote on the Huffington Post. Ada Vox wasn't voted off because she is a drag queen and she wasn't voted off because Adam Sanders (her alter ego) is a gay man. She was voted off because she was not the best voice on the show.

"Let me be clear: Vox is a star," he continued. "And Vox can sing. Her performances of "And I Am Telling You I'm Not Going" and "Circle of Life" were rousing spectacles ― but they were not master classes in singing.

"But let me play Simon Cowell here for a moment. Ada Vox was not eliminated because she didn't conform to the societal norms of "Idol" viewers; she was eliminated because she didn't conform to the key of the song."
Clay stresses that he's not here to bash Ada or to downplay how important her time on American Idol was for LGBT people.
"Most of us were thrilled to see a contestant breaking down another barrier" Clay wrote.
"We were excited to see an out and proud contestant doing well and living their truth on an American institution. I certainly was. And when we are proud of someone and rooting for them as fiercely as so many of us were, it's easy to ignore their shortcomings."
So who does Clay think the best singer of American Idol 2018 is? Well, he doesn't say. But you can read the rest of his op-ed at the Huffington Post.