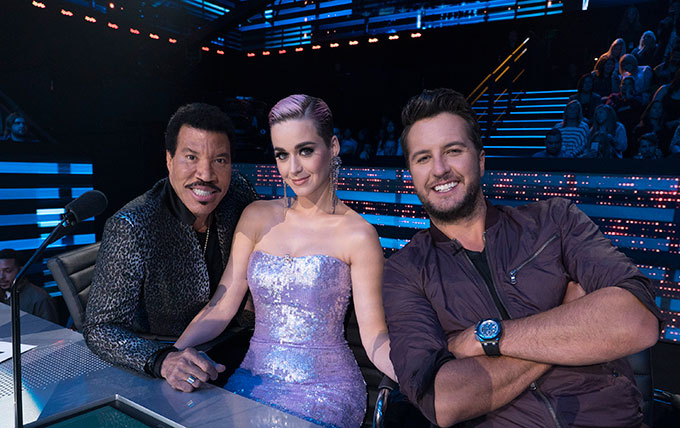 Last night was the last Monday episode of American Idol 2018 until the finale on May 21. And instead of finding out who goes home at the start of the following week, we will know who goes home at the end of each episode from here on out.
That means, for the first time in the history of American television (still fact-checking this), a reality-competition series will allow viewers to watch and vote from both coasts simultaneously as American Idol 2018 is simulcast in all time zones across the country starting Sunday, April 29 (8:00–10:01 p.m. EDT/5:00-7:01 p.m. PDT), on ABC. Viewers will be able to vote by text, at AmericanIdol.com/vote and on the American Idol app. Results will be revealed at the end of each show in real time, across all time zones.
"We set out on a journey to find the best talent this nation has to offer," Channing Dungey, president of ABC Entertainment said. "As we head into the next phase of the 'American Idol' competition, it only makes sense to let every viewer from coast to coast experience the magic of live television and have the ability to vote for America's next superstar."
So that means for the next three (at least) Mondays we will watch, vote and find out who goes home all within the two-hour show. The final Sunday episode will be the first part of the finale, so we aren't sure what kind of results we will have then, but we can expect the final 3 to become the final 2 by the end of that night.
We don't have details on how many eliminations will take place over the next four weeks, but it has to be more than one a week, because math. There are 10 people left, presumably two finalists, so that doesn't equal one eliminated player a week. Hopefully that all becomes more clear in the next week or so. And we'll keep you updated.
The only issue I see with this method is that people on the West Coast might be less likely to vote because are they really going to be sitting down to watch American Idol at 5 pm? I guess some will, but I think there will be a few votes lost that way.
What do you think of this new American Idol episode and voting format?