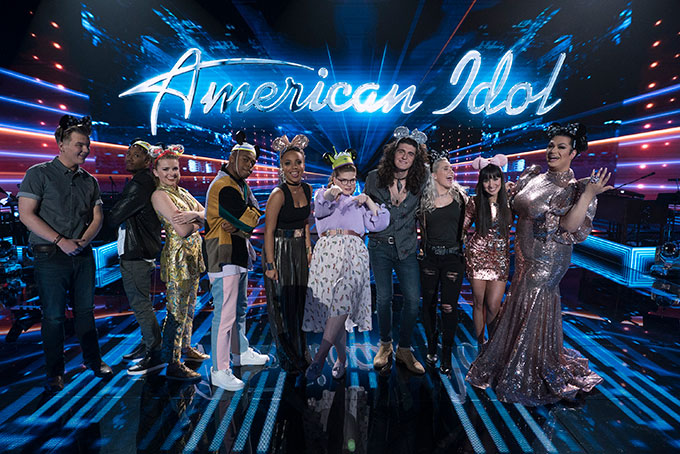 Tonight on American Idol 2018, the Top 10 will be performing songs from the Disney songbook and we've got the full setlist for you.
So what Disney songs will the American Idol Top 10 be performing? Let's take a look:
Gabby Barrett – Colors of the Wind from "Pocahontas"
Cade Foehner – Kiss the Girl from "The Little Mermaid"
Caleb Lee Hutchinson – You've Got a Friend in Me from "Toy Story"
Jurnee – How Far I'll Go by Auli'i Cravalho/Alessia Cara from "Moana"
Dennis Lorenzo – Can You Feel the Love Tonight by Elton John from "The Lion King"
Maddie Poppe – The Bare Necessities from "The Jungle Book"
Michelle Sussett – Remember Me from "Coco"
Catie Turner – Once Upon a Dream from "Sleeping Beauty"
Ada Vox – Circle of Life by Elton John from "The Lion King"
Michael J. Woodard – Beauty and the Beast from "Beauty and the Beast"
Those are all pretty standard song choices. The only one I picked correctly with my Disney song suggestions was "You've Got a Friend In Me" from "Toy Story" for Caleb (my suggestions were better than their choices).
I really like Maddie's and Cade's song choices. I think they'll do great things with them. Some surprises are no one doing "Let It Go" from "Frozen" and no songs from "Aladdin." Star of "Frozen" Idina Menzel is mentoring them, so maybe they thought that would be too much "Frozen."
Also, D Cappella, Disney's a cappella group will be performing songs throughout the night, so maybe they'll cover some of the songs missing from this setlist.
Be sure to tune in tonight because you'll only have tonight to vote for your favorites because we will be getting the American Idol results in real time at the end of the show. This is going to be quite a night so be sure to check back with us for all the details of tonight's show and to find out who was voted off American Idol.
SOURCE: ABC