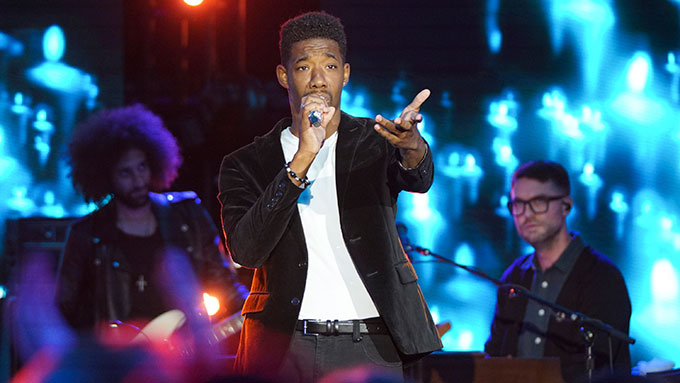 Last week on American Idol 2018, I made the bold statement that the Top 24 Group 1 didn't wow us. That was not the case with Group 2. This group of 12 semi-finalits definitely out-shined the first 12.
I think it's safe to say the winner of American Idol will come from this group and not the first group.
As always, I'll be reviewing each performance and assigning the letter grade I think each performance deserves.
Amelia Hammer Harris, "Believer." Well, she didn't take any of Bobby Bones' advice because she seemed really off-putting and disconnected from her audience. And the vocals weren't great either. They got better throughout the song, but they started off really rocky. Grade: C+
Garrett Jacobs, "Treat You Better." Garrett was good with the crowd and the vocals had some great moments, but there were also some definite rocky moments. I don't think that was the right song for him, but overall, it was a solid performance. Grade: B
Maddie Poppe, "Brand New Key." I love this song. I'm sure not many people know it, but it's a great song from the 70s and it was a perfect song choice for her. The vocals were perfect and so was her personality and stage presence. This was great. And Maddie might be my new favorite. Grade: A+
Ada Vox, "Feeling Good." We've heard this song performed a lot on American Idol, but never quite like this. That was at level 10 the entire time. It started out big and ended big. And her confidence was so incredible, especially for someone who has been cut on American Idol and audition 13 times. Grade: A
Caleb Lee Hutchinson, "Die A Happy Man." Well this was a very boring performance. I kept waiting on something to happen, but I guess that's all this song is? I'm not big on country unless there's some kind of moment, but this just didn't have it. His vocals are solid, though. Grade: B
Effie Passero, "Barracuda." Great song choice. This is definitely one of the Heart songs not overdone on Idol (I'm looking at you "Alone"), so that was refreshing. And while Ann Wilson is such a powerful singer and hard to even kind of reach, Effie held her own. I hated the ending, but that was an energetic and fun performance. Grade: B
Alyssa Raghu, "Stay." To be honest, I kind of forgot she was even in the Top 24. They just haven't given her much of an edit. And this performance didn't do anything to make her any more memorable. She looked gorgeous and the performance had some good moments, but overall it was just OK. Grade: B-
Marcio Donaldson, "Inseperable." This was absolute perfection. From the first note to the end note. Marcio is a natural. And he performs for us, not himself, like so many of the other contestants. I love him so much. Grade: A+
Mara Justine, "Run To You." Mara actually surprised me with this. I admit I've been sleeping on this one. I didn't really get it and didn't expect anything to really become of her. But this was a great performance. It's hard to judge someone doing a Whitey song, but that was really good. Grade: A
Jurnee, "Flashlight." June is the one singer this season that is just such an effortless performer. You can see so many others just working so hard to make a moment, and Jurnee walks on the stage and just starts singing and it works from the jump. She's a natural. Grade: A
Shannon O'Hara, "All I Ask." That was a sweet performance. I still have a hard time with her because she seems so standoffish. I feel for her and her family, but I'm not sure American Idol is going to happen for her. The vocals were good, but she is definitely best behind the piano. Grade: B+
Ron Bultongez, "Dancing On My Own." Ron is another one I forgot was even in the Top 24. He has just been so not present that I have no memories of him. And i love this song, when it's performed by Robyn, but I'm kind of tired of reality show men singing it. It's a gimmick now and should be put away unless you're Robyn. Grade: B
What did you think of these 12 performances from the American Idol 2018 Top 24? Who were your favorites?
American Idol Network's Top Performance of the Night: Maddie Poppe