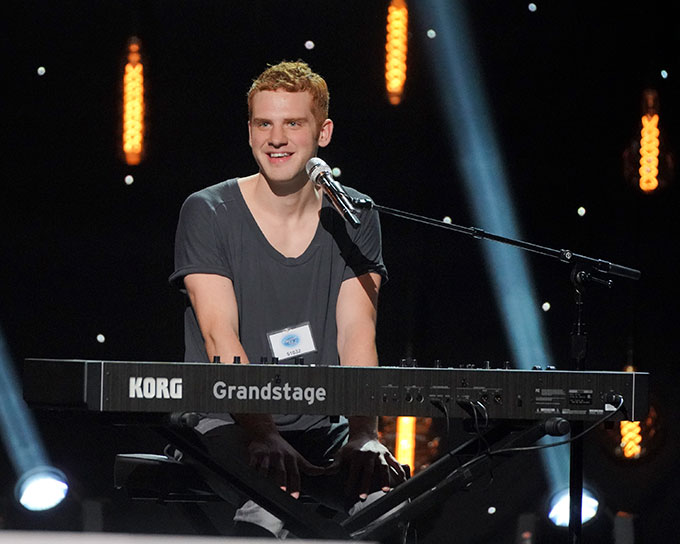 There's always one thing we can count on for American Idol Hollywood Week: It will always be a mess. There will be people we've never seen before and people we thought we'd see again and we don't. There will be bickering and almost always someone is in need of medical attention.
We got all of that on Sunday night as 175 American Idol hopefuls made it to Hollywood to once again sing for the judges, hoping to become the next American Idol.
And to go along with the mess that is Hollywood Week is a messy recap. Enjoy!
Laci Kay Booth, "Natural Woman." I know they're loving her, but I did not like this. I thought it got better as it went, but the start was very gargley and weird. I just really think the judges overreacted to that. Maybe it was better in the auditorium.
Alejandro Aranda, "Sorry." I think he does much better with his own songs, but this guy is still incredible. I'm glad he wowed the judges once again. He is a definite contender this season.
Laci and Alejandro both make it onto the next round.
Madison VanDenberg, "Already Gone." Picking a Kelly Clarkson song after being compared to her was very risky. But it paid off. It was a bit screamy, but she had very little time to show what she's got so she took every second.
Logan Johnson, Tyler Mitchell and Margie Mays take to stage next and we don't get to see much of them, but they seem to have some good and bad moments in what we got to see.
Tyler, Logan, Margie and Madison all move forward to the next round.
Eddie Island, "I'll Follow You Into the Dark." Eddie is sick but still managed to pull off a successful and entertaining audition. The judges loved it.
Eddie gets a pass to the next round.
Shawn Robbins, "A Change Is Gonna Come." Shawn has a very interesting sound and this was the right song to show case it. He really impressed the crowd.
Colby Swift, "Every Teardrop Falls." I think Colby is country radio ready. He's got some grit and is far from perfect, but some of the best country artists are just like this. I like his sound.
Shawn and Colby both move onto the next round.
Ashton Gill, "I Can't Make You Love Me." I think Ashton was pretty middle of the road. She's definitely talented, but her performance was a bit shaky and forgettable.
Laine Hardy, "She Talks To Angels." I'm not sure he will have vocal cords for long with how he sings with his throat, but it's a good sound. I think he's got a lot of star power.
Laine moves on, but Ashton's journey ends. The friends who first auditioned together are split up.
Jade Flores, "Unchained Melody." I didn't really respond much to her first audition, but this time I paid attention and will remember it. I think this is one of those cases where the Hollywood Week performance was much better than the audition who got them there.
Myra Tran, "Chandelier." Yikes. She was so much better the first time we saw her. I have no idea what that was, but I thought it was terrible. I mean she can do it, but that just wasn't it.
Jeremiah Lloyd Harmon, "Beautiful as You Feel." This guy is perfect. He's got a perfect sound, a great look and extreme confidence on the stage. I'm a fan.
Jade, Myra and Jeremiah all move onto the next round!
Walker Burroughs, "Whereabouts." I think Walker is also very talented and can do well in this competition, but he and Jeremiah in the same conception could be a bit odd. They could end up competing and slipping votes if they're both in the voting rounds. Regardless, he's a great performer.
Nate Walker, "I Believe In You And Me." Yeah, still not a fan of this guy's fake voice. I didn't like it during the audition and I don't like it now. I mean he can sing, but I want to hear his natural singing voice.
Walker and Nate both make it to the group round.
Nick Townsend, "Life Of The Party." I think Nick is a supple sweet guy and he has such a story, but his performance was just kind of middle of the road.
Lauren Engle, "Jesus Take the Wheel." I'm really bummed that Lauren was so much better the first time we saw her. I really liked her when we first saw her and hoped to hear more good things from her, but this wasn't it.
Nick makes it, but Lauren is out. Bummed.
Wade Cota, "Litost." I know they like him, but I'm not much of a fan. I can't listen to that kind of voice for long.
Dimetrius Graham, "Wind Beneath My Wings." For some reason we haven't seen Dimitrius before so he must not have had much of an audition. But this was a very touching audition.
Wade and Demetrius both move froward.
And that's it for solos. We saw a lot of familiar faces, but there were a lot of audition standouts we didn't see.
GROUP ROUNDS
Well this round is always a mess and is nearly impossible to recap, so bear with me.
Diversity – Myra Tran, Juan Pablo, Jade Flores and Mariah Formica, "Stronger." Yeah that was messy but if you listened to each person individually you got to see who has it and who does it.
Myra, Juan and Mariah move on. Jade is going home. Which I think is absolute crap. She was so much better than Mariah, who we haven't even heard from.
Diamond Dixies – Katie Belle, Laci Kay Booth, Colby Swift and Laine Hardy, "Grenade." Laci sounded a lot more natural on this song. And Katie was pretty solid too. Laine did what he had to do too, but Colby blew the lyrics and that sucks because I liked him.
Katie, Laci Kay and Laine move on. Colby is eliminated.
Victorious Secret – Grayson Little, Kason Lester, Wade Cota, Payton, "California Dreamin." I gave up even trying to figure out who was in this messy group. That was a total mess. Wade, who the judges love didn't know the lyrics and made the whole thing a mess.
Wade makes it despite blowing the lyrics. Grayson is eliminated.
Unexpected Vibe – Dimitrius Graham, Assata Ranay, Shayy, William Oliver, "I Want It That Way." This group was actually pretty in step. They harmonized and was able to really make it work. I liked this group a lot.
Everyone but William moves on.
Ain't Goin Home – Logan Johnson, Nate Walker (and people who they won't name for us). And I guess we won't be hearing them perform this episode because Nate gets sick and is taken out in an ambulance. Stay tuned for Monday's episode to find out what happens with Nate and the group.
What did you think of American Idol 2019 Hollywood Week part 1?
American Idol 2019 Hollywood Week Photo Gallery