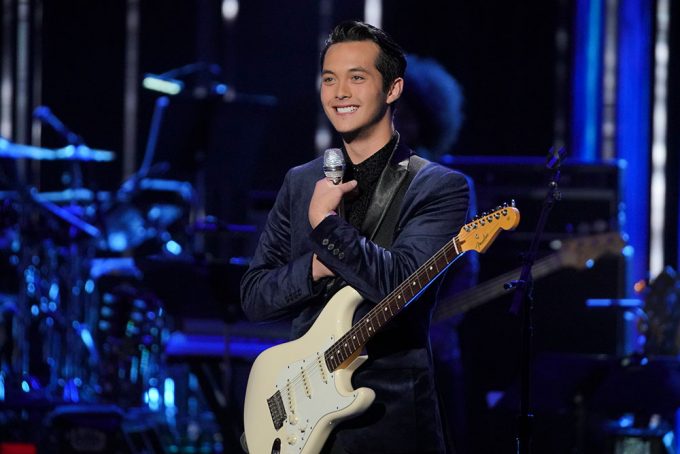 The American Idol 2019 Top 20 includes some serious talent. The judges are calling this the best group of contestants ever. Of course regardless of the network or the panel of judges, they've always said that. But I think this season, they might actually mean it. I can't imagine how they decide who to cut to get to the Top 14. And I don't even want to imagine what America's vote will decide when our time comes.
So while I still have a chance, I want to rank the American Idol Top 20, based on what we've seen so far from them, but last night's performances will weigh more in these rankings than the earlier performances. I'll also be looking at stage presence and just overall appeal.  And of course these are just my opinions. So if you disagree, that's great. Let us know how you rank them in our comments below.
American Idol 2019 Top 20 Rankings
1. Jeremiah Lloyd Harmon. His performance of "To Make You Feel My Love" was so perfect it gave me goosebumps. That doesn't happen to me. And his story is so touching and he's always so humble. Those are all reasons why I have picked him to hold the top spot in these rankings.
2. Ashley Hess. Her effortless voice and tenderness makes her so easy to listen to. She hasn't had any slip-ups at all, so that gives her the edge over my other favorite female singer Madison (who I think had a rough performance last night).
3. Alejandro Aranda. I love, love this guy. He is a complete musical genius. His performance last night was flawless and I know he can do no wrong. I do find him a bit too humble and he really does need to take a little leap as far as his star quality goes. If you win American Idol, your label is going to make you do a lot of things that aren't who you are. So I think he should start now with a bit of a style makeover. I hate even weighing that in these rankings, but people look at that kind of thing. Regardless, he's a perfect performer, but he misses a few marks as far as the "complete package goes." Still, No. 3 is a pretty great ranking.
4. Laine Hardy. Laine has clearly spent the past year crafting himself. I'm convinced he's been working with someone (He even got veneers to fix his teeth), so I'm reluctant to rank him higher. Something is up with this. Call me a crazy conspiracy theory nut, but his audition wasn't an accident like they made it seem. That was all planned out. He and the producers knew he was going to audition. They wanted to tell a story and it has worked. Is Laine the official plant of the season? And I like Laine, so this isn't an attack. Again, maybe I'm crazy, but it's not a total wack theory. This is television, after all. Anyway, I'm rambling. He's had great performances so far, and I think he's going to be hard to beat now. But I rank him lower than Jeremiah, Ashley and Alejandro just because he's not at all humble. We like to see the stars develop as the season progresses, not right out of the gate. I mean the judges have even said they have "created a monster" with Laine. So think about that.
5. Laci Kaye Booth. I was a little mixed on Laci up until last night's "I Want You To Want Me." I'm still not sure if that was an arrangement already done by someone before her or not, but it was brilliant. So if that was her doing, than she's a serious, serious musician.
6. Madison VanDenberg. I don't like ranking Madison out of the Top 5, but after her upbeat performance during the Top 20 solos, I just had to. As I mentioned in my recap of the episode, that performance answered the question "Is she the next Kelly Clarkson?" That would be a no. She's great at ballads, but she needs some work when it comes to upbeat performances and commanding the stage. Kelly is effortless in every way and Madison needs some work. She's still great though, so don't get me wrong. I'm just being overly critical here since this is a singing completion show.
7. Walker Burroughs. I think Walker is such an old-school Idol guy. I love that he is having a story arc. He came in way nerdy but nailed his audition. Since then he has started transforming his look a bit and his sound improves every week. It really feels like a Season 2 won of journey and I like that. He didn't come in all polished up (like Laine), so it makes me feel a bit nostalgic for the old Idol days.
8. Uche. Like the judges told him, Uche is A LOT. So he can be hard to take seriously. But he is a serious entertainer. He does need to dial it back a bit or people will grow tired of it. But he's definitely Top 10 material in my book.
9. Riley Thomson. Based on some of the polls I'm seeing, Riley isn't quite connecting with America. I think it's because Laci is so good and voters tend to focus on one country performer, which spells trouble for any others. But I like Riley's voice and I'm not much of a country fan. Her version of "Jolene" was next-level, too, so to me she's Top 10.
10. Ryan Hammond. Ryan does need to work on his connecting with the audience, but damn he can sing. His voice is so powerful and commanding in itself, but there is a bit of a psychical disconnect. I like him, though. So he rounds out my personal Top 10.
(the rest of the Top 20 I'll just rank with no explanation because this will get way too long)
11. Eddie Island
12. Wade Cota
13. Dimitrius Graham
14. Logan Johnson
15. Alyssa Raghu
16. Kate Barnette
17. Bumbly
18. Shawn Robinson
19. Raquel Trinidad
20. Evelyn Cormier 
So those are my rankings. How would you rank yours?
American Idol Top 20 Photo Gallery