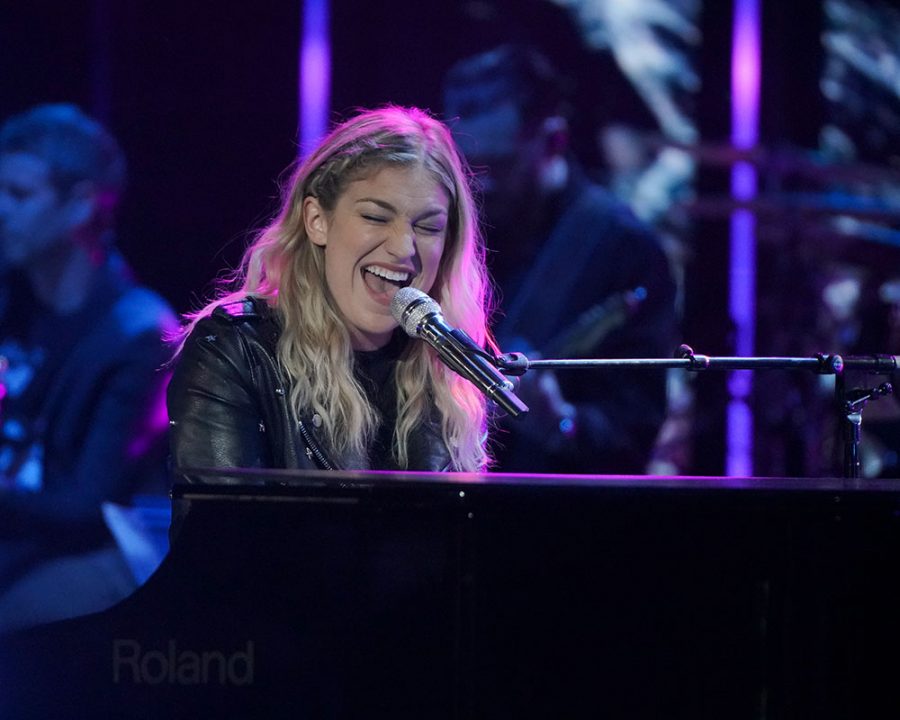 American Idol 2019 is not playing around. These judges have found the best of the best. I usually roll my eyes when they say that, but this group of hopefuls is pretty incredible.
The Top 20 took to the stage to perform solos ahead of next week's Top 14 announcement, and I was very impressed. Below are my reviews of each performance and I've included the letter grade I think each earned. Let us know your own grades below.
Madison VanDenberg, "Domino." I think it was smart for her to do an upbeat song to show she's not all just ballads. That being said, I did miss her ballad voice because I don't think this is quite her wheelhouse. Which answers the big question "Is she the next Kelly Clarkson?" That would be a No. I'd give that performance a B- actually, which shocks even me.
Shawn Robinson, "Jealous." I don't think this was the right song for his voice. I think he should have picked an old Motown song just to impress the judges. I think this won't do him any favors next week when it's time for the judges to make their cuts. I'd give this one a solid B.
Laine Hardy, "Bring It On Home To Me." This was a great song choice. I love that Laine isn't tryin to be the token country guy. He's a country guy, but that's not what he's focusing on. He has such a unique and distinguishable sound so it's easy for him to put his mark on whatever he sings. This was an A+ performance.
Uche, "Figures." That was another great performance. He's so smooth and rich. I've actually never heard this song and he sold it to me. He's such a performer. Wow. That's another A+ for sure.
Eddie Island, "Ho Hey." I never thought we'd ever hear this song on American Idol, but here it is. And it was actually good. I've been kind of ho hum (haha) on Eddie so far, but this really worked. I liked it. I'll give him a shot now because of this one. Grade: A.
Evelyn Cormier, "Leaving On A Jet Plane." This is a weird song for a 19-year-old to pick, but go off. As for my critique… well, I hated it. And I think I'm going to hate every performance of hers because I cannot stand her fake, gimmicky voice. I want to give it an F, but I'm not a monster. So I'll give it a C- instead.
Alyssa Raghu, "Ain't It Fun." I was a bit bored with the song choice, but she's got a great natural sound and she really did learn how to work the stage. I think with a better song choice she could really kill it. But this one was just kind of middle of the road for me. So I give it a B.
Ryan Hammond, "You Say." Well that was good. From start to finish, it had everything that a great performance has. Like Lionel said, Ryan can really tell a story with his singing. He does seem a bit held back as far as his presence goes, though. Grade: A.
Raquel Trinidad, "Loverfool." First of all, I have to say how odd it is that I don't really know who she is. I've barely seen or heard her so it just kind of baffles me. As for this performance, I liked it. She has her own little stylings that aren't annoying or fake-sounding like Evelyn. For some people that different sound comes naturally, and for others it just sounds like a gimmick. This is a hard one to grade because it was cute, but there was notting that really stuck out. I think it's a B- for this one.
Logan Johnson, "Love Don't Live Here Any More." This was weird for me. He seemed completely disconnected and the song was kind of sleepy. It all seemed a bit hazy, and that's a bummer to me because I like this guy and am rooting for him in every way. Grade: B-
Dimitirus Graham, "Hello." Adele is a tough one to cover, so when I heard he was doing this I was like what? And then when it started with whatever it was he did I was like WHAT WHAT? It was just very, very weird. But it did get better, thankfully. There were still some shriek-y moments, but overall it was pretty decent, just not my favorite. Grade: B-
Riley Thompson, "Jolene." This was the perfect song for her. She has that little but powerful voice like Dolly Parton, so this really worked for her. And it's just a great song so it's hard to not enjoy it. I give this a B+ only because it didn't really go as far as it could have and I hated the way she ended it.
Walker Burroughs, "How Deep Is Your Love." I loved the risk he took starting this performance a cappella. That could have gone so wrong, but it was beautiful. I actually liked it better before the music started. He's a great artist and this wasn't the most exciting, but I dug it. Grade: A.
Bumbly, "Vision of Love." She's another one I barely know. It's so weird to me that they didn't feature some of these Top 20 contestants more. Anyway, as for the performance, it was cute. Which is weird to say about such a huge song like this by Mariah Carey. But her voice is just really cute. I'm sure that's not a compliment to her, but that's how I heard it. There were some more powerful moments, though, so she definitely has a solid range. Grade B+
Ashley Hess, "Dreaming With A Broken Heart." She is so good. She just makes me feel good when she performs. She's got that magic to her. I didn't even love the song, but she's so captivating it worked for me. I can't wait to hear more from her. Grade: A
Alejandro Aranda, "I Fall Apart." First of all, I have to say this: He is clearly the best guitar player ever on American Idol, right? Anyway, this was another great one from him. I don't think we are ever going to get anything bad from him. He is a genius. I have no criticisms. Grade: A+
Kate Barnette, "Sunday Morning." I predict that she will lose her spot in the Top 14 to Evelyn, who is less talented, because they're both "quirky" and that makes me sad. Kate is far more natural. This wasn't a good song choice for her, but she's a great artist and is a natural. Grade: B+
Jeremiah Lloyd Harmon, "To Make You Feel My Love." Jeremiah is the only one to give me goosebumps. And I have to go back and read, but I think he's done so every performance. He's flawless. This was flawless. I don't understand why this wasn't chosen to close the show. Anyway, he's great. Vote for Jeremiah when the time comes. He deserves to go all the way. Grade: A+
Laci Kaye Booth, "I Want You To Want Me." I didn't expect this to be a slow version of this song, but dang that really worked. It kicked up a little bit in the middle, but was still a really pulled back version of this song. I'm curious if this was someone else's arrangement because it was brilliant. If this was her arrangement then that's incredible. Grade: A+
Wade Cota "All I Want." I'm sorry, I can't do it. I'm trying to see what others are seeing with him, but I just can't find it. As the song went on and he worked in a falsetto I got it a little more. But I'm still waiting to get it overall. Maybe I need my head examined. I'll still give it an A though because I guess I can't trust my own opinions based on how obsessed the judges are with him.
What did you think of the American Idol 2019 Top 20 performances?
American Idol 2019 Top 20 Solo Performances Photo Gallery