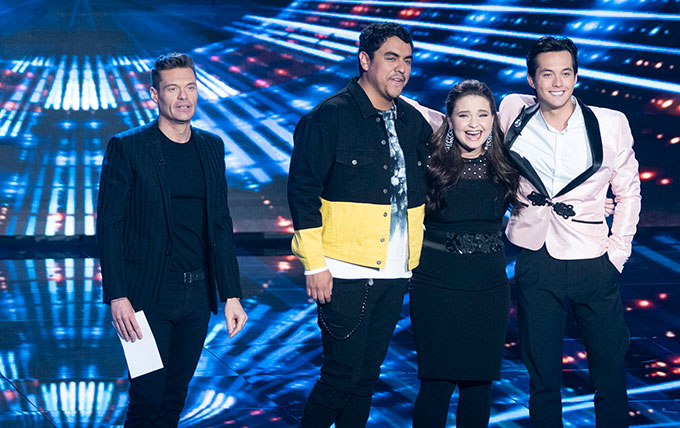 On Sunday night the American Idol 2019 Top 3 was announced following a night of performances and votes. It was Laine Hardy, Madison VanDenberg and Alejandro Aranda who came out on top and are headed to next week's season finale.
So now, as we always are, we are left asking did America make the right decisions? And like always, that's subjective, but we are going to answer the question anyway. This week they got it right. We think.
We knew that Laine Hardy was getting into the Top 3 no matter what. But everyone else was kind of up in the air. We had a feeling Alejandro Aranda might be in the Top 3 since he's so unique and has been a favorite all season despite a couple of setbacks a few weeks ago. And after last week, it really wasn't a surprise that Laci Kaye Booth was again in the bottom two. And then there's Wade Cota.
I made it no secret that I wasn't a Wade fan all season. It was nothing personal, he just doesn't do anything for me. So of all the decisions, I think him going home made the most sense. Bit I wasn't sure that was going to be the case with how the judges have OBSESSED over him all season. Even when he blew lyrics during Queen week they praised him. And when he was flat the entire time during "Rocket Man" Sunday night, they praised him. And he has a lot of fans outside the show, too. That's how he lasted so long. So again I wasn't sure if we'd get Madison or Alejandro over him. But I'm glad we did.
So I think America did get it right this time. I would have liked to see Laci in the finale because she's been one of my favorites this season. But I don't think I could really see her getting in over Madison or Alejandro. In a normal season when he wasn't marketed to death, I could see Laci getting in over a Laine, but this show has been very calculated to make sure Laine made it. So this just wasn't the season for a Laci type singer.
And I am in no way saying Laine doesn't belong in the finale. I know a lot of people love him, and I think he's a great entertainer. Do I think he had any kind of progression or any ground-breaking moments this season? No. In fact, he might be the only one who just kind of walked a steady line the whole season. But again, if people like a singer, there's no changing that.
I think this is a pretty final solid three. I do think the final outcome won't be exactly as it should be, but again it's all subjective. Any of those three winning would make sense, but there's only one who is innovative and could actually bring something fresh to the table as the winner. I think it's pretty obvious who I'm talking about there.
So what do you think? Did America make the right decisions with this Top 3? Who do you think could and should win American Idol 2019?