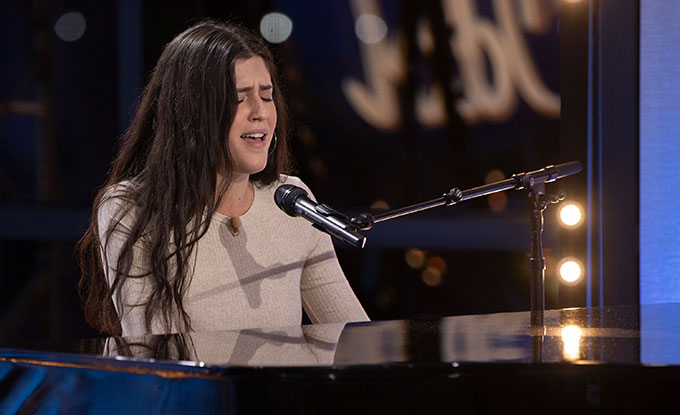 The American Idol 2020 auditions continued on Sunday night as Lionel, Katy and Luke continued their search for America's next super star.
Let's take a look at the standout auditions from American Idol 2020 Episode 2.
Cyniah Elise, "You Are the Reason." The viral star is a natural and her voice is beautiful. She has the effortless ability to connect to her audience, too, it seems. I liked her and the judges did as well because she's off to Hollywood.
Kay Genyse, "Mercy." Well she's got some personality. But does she have the voice to back it up? Well, she's definitely not great, but she is entertaining. I could see keeping her around for a bit for fun, but I don't see her as American Idol worthy. Katy decides to take her to the streets to sing for her life. Katy says it the people say yes, then she says yes. She oddly sounded better on the street. I mean she's still not great, but letting her go home at this point would just be rude. So she's off to Hollywood.
Kyle Tanguay, "Mercy." Kyle has no singing experience but gained some confidence when he made the Philadelphia Eagles cheerleading squad. He's not a bad singer, and his audition really started out strong, but it kind of fell apart later. He does have a nice tone, though, so I think with some work he would be really good. But is there anything there that really stands out? I'm not sure. But the judges are sure and he's off to Hollywood.
Jovin Webb "Whipping Post." That guy has got some soul. I loved his grit and how easy it was for him to break out that classic soul/blues sound. I love artists with old souls, and he surely seems to be one of those. The judges dug it too, so Jovin is headed to Hollywood Week.
Margie Mays, "Ironically I Found a Boy." You might remember Margie from last season. She made it to Hollywood Week but then was cut shortly after. She has a great presence and personality and now her voice seems to have caught up to the rest of her. I really enjoyed that audition, and I'm pretty sure I wasn't that on board with her last season. I like her. The judges, minus Katy, give her another shot and send her off to Hollywood.
Jonny West, Original. So Jonny is Margie's boyfriend, and he's really, really good. I always feel really weird when couples audition and one is better than the other. I think we can expect a lot more out of Jonny this season than we can Margie. The judges love him and send him off to Hollywood.
Sarah Isen, "If I Were a Boy." Her voice is powerful, but singing doesn't seem effortless for her at all. Maybe it's just the song, but that just seemed really rehearsed. The judges were apprehensive, but she's off to Hollywood anyway.
Julia Gargano, "Growing Pains." Hoping to follow in the recent successes of songwriters who aren't traditional pop artists to come out of American Idol, Julia decided to give Ido a chance. And her audition was one of the best so far. Her original song was well-written and her voice is so easy to listen to. She even got a hug from Katy Perry. So, needless to say she's off to Hollywood.
Curt Jones and Hannah Prestridge. This married couple both auditioned, but since Idol doesn't take acts, they had to audition individually. Curt was pretty decent, but the real talent in that pair is Hannah. Her original song was beautifully-written and she sings with pure emotion. Hannah gets a ticket to Hollywood, but Curt does not.
What did you think of the second round of American Idol auditions?
>>CHECK IT OUT: Don't want to wait to find out if any of these hopefuls make it into the Top 20? Check out our American Idol 2020 Top 20 spoilers.