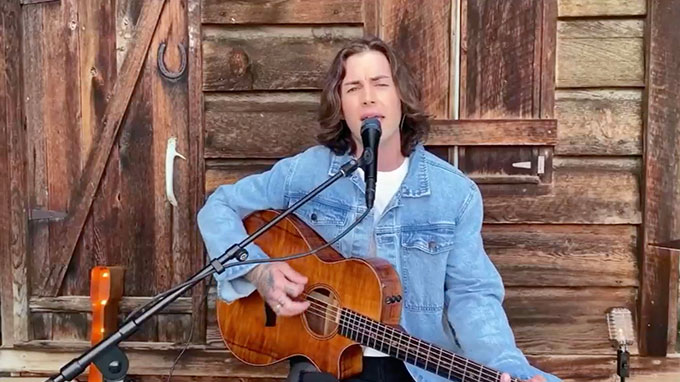 Q
The American Idol 2020 Top 20 took to their living rooms, garages and back yards for an unprecedented performance show during a nationwide quarantine.
Oddly enough, though, I didn't mind the fact that these singers were performing at home. At first the lack of a crowd was a bit weird, but as i went on I didn't even notice, and ended up appreciating the fact that we could hear the performances better this way.
As always, I'll be reviewing each of the performances and assigning each one a letter grade.
Kimmy Gabriela, "Leave Me Lonely." Well this was a great way to start such a werid show. She sure didn't sound like she was literally performing in her back yard. She's a great artist and shines so easily. I enjoyed that for sure. The judges did as well. Katy said she thinks Kimmy has evolved. Grade: A
Jovin Webb, "With A Little Help From My Friends." This was a perfect song choice for him. His raspy, soulful voice matched right up with Joe Cocker's version of this song. But it didn't feel like a pure imitation either. I thought it was a great performance. Luke told Jovin that his voice stops people in their tracks. The other judges were pleased with the performance as well. Grade: A-
Franklin Boone, "Everybody Wants To Rule The World." I LOVE this song choice, but I'm not exactly sure of the performance. It was a little too one note fo most of the song. He's obviously very talented, but to me this just wasn't a Top 10 performance. The judges didn't feel the same way I did, though. They loved it. Grade: B-
Olivia Ximines, "Bad Guy." I think she could have gone with a song that was more her style, but she's got such talent it really didn't matter. She's a great performer and even though I was really distracted by her living room (for real, though take that furniture out!) I thought she nailed it. The judges really liked her performance also. Grade: A
Louis Knight, "If The World Was Ending." I liked that this was a stripped down version. It really worked for someone singing in their bedroom. And I don't remember him performing with this kind of emotion, so that was a smart move to go with this song, especially now when so many people are looking for some hope. Luke thought it was a great song choice and that he gave us an artistic performance. The other judges agreed. Grade: A+
Makayla Philips, "Greedy." I didn't like this song choice at all. And the production sounded like it was done on a drum machine. And I don't like her presence. She seems like she wouldn't be very likable. And that might be unfair of me to say, but that's what I get from how she presents herself during her performance. And don't even get me started on her flat notes. I think Makayla is a bit overrated by the judges. Grade: C+
Aliana Jester, "Run To You." This was a smart song choice because Lionel has already compared her to Whitney before. And it's also a really emotional and appropriate song for what's going on now. And she nailed it too. And I also really liked what she did with the staging. Not many others worried about making their own stage at home, but she killed it with that. I really liked it overall. Grade: A
Faith Bencel, "River." I think she has one of the more interesting voices. And it's a natural sound she has, not some forced gimmicky sound that so many singers give us now just to sounds unique. I liked this performance a lot, actually, but I'm afraid she's not a very memorable performer, so will she be able to pull off a Top 10 spot? The judges seem to think she has a shot. I hope so. Grade: A+
Nick Merico, "Hey There Delilah." I think what Lionel said to Nick a long time ago still rings true. He still seems smug and full of himself. And that's very Hollywood of him, so maybe that means he's ready to be as famous as he seems to want. I think he's a good singer and has a great look, but I wouldn't want to buy his music. He's just a cookie-cutter typical guy who can sing pretty well. I do appreciate that he plays the piano, though. Grade: B+
Lauren Spencer-Smith, "Mama Knows Best." This was probably one of the most professional performances of the night. From setting to sound to her vocals. She's incredible and radio-ready. Just let her go past the competition and give her a record deal. She's ready and doesn't need American Idol. Grade: A+
Cyniah Elise, "Warrior." I think she's a great performer, but that's just not a good song. It isn't well-written and it really doesn't do much to showcase her voice. I think overall, it was a pretty forgettable performance. The judges had no real criticism though. Grade: B+
Franciso Martin, "Teenage Dream." Picking a Katy Perry song was brave. I liked the arrangement, though. It was fun to hear that as a singer-songwriter song. He's just got such presence and is so likable. I really like him, and could really see America connecting to him. And Katy actually loved the performance. Grade: A
Sophia James, "Burning." I'm not sure who changes their name during a season, but here we are. Sophia, to me, is just kind of there. I don' think she's bad at all, but I just didn't want to hear more of her after this performance. And I'm pretty sure I really liked her initial audition. The judges seemed bored, too, but they pretended like they weren't. Grade: B+
DeWayne Crocker Jr. "I Got You (I Feel Good)." Ok, so I hated this arrangement. It was was not pleasant to listen to at all. I think he has a great voice, but this whole thing was just off to me. And why was there a Christmas tree up? Katy even had some slight criticism, so that say a lot, since these judges are always overly nice. Grade: B-
Dillon James, "Let It Be Me." Another super professional performance. Dillon is one of those singers this season that should already be a star. He's just a complete natural and can do no wrong, really. This performance was so perfect and effortless. The judges had only good things to say as well. Grade: A+
Arthur Gunn, "Lovin' Machine." I'm not sure this was the right look or song for Arthur. I LOVED him during auditions and Hollywood week, but i didn't even recognize him tonight. I think that might have been a mistake. And while I loved how he performed the song, I don't know if that was the best idea for him. I hope he makes it into the Top 10 because he's a brilliant musician, but I'm worried now. And this is by no means a bad review of his performance. It was flawless. I just don't know about how people are going to respond. Grade: A
Julia Gargano, "Human." I'm not sure what it was, but I didn't really like this performance. It was fine, and had a great middle, but I just don't think it's something I would remember tomorrow. I think she could have chosen a better song. The judges talked her up, though, so we will see what American thinks. Grade: B+
Grace Leer, "Cry." Grace is another one of those singers that is just ready for a record deal. She's got so much power and strength in her voice. That wasn't the most exciting song, but she's a great artist and i'm glad America sent her through. The judges enjoyed her performance also. Grade: A-
Just Sam, "I Believe." It's been at least four season since someone did this song by Fantasia, so I won't complain that it's overdone. Especially since Sam did a great job with it. It wasn't as intense as this song is intended to be after Fantasia first performed it, but it was still a really beautiful version. I just wish she would have really take it up a notch. Grade: A-
Jonny West, "What A Wonderful World." This was a brilliant song choice for what's going on in the world today. This was a performance of hope and I think it's going to pay off for him. I also loved that he made this song his own. It bordered on a little too much change, but then he brought it back in the chorus. Brilliant. Grade: A+
What did you think of the Top 20 performances? Who do you want to see make it into the Top 10?