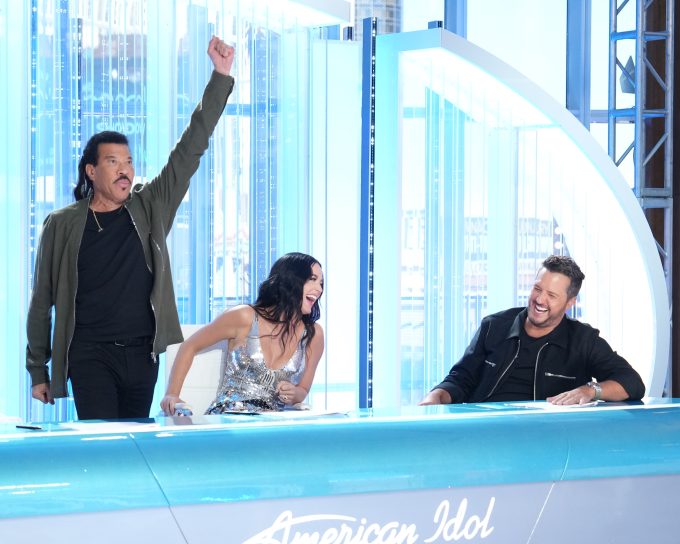 We're still a day and some change away from the American Idol 2023 premiere. However, the Idol team has already released a look at night two. We won't see these auditions until February 26, but now we have a sneak preview of some of the contestants auditioning that night.
Once again, ABC has released some images of the new American Idol contestants a little ahead of schedule. Fans and amateur internet sleuths can go ahead and look for already released music of these Idol hopefuls. Many of them already have music on Spotify and other music streaming services.
Based on the American Idol 2023 night two photos, it looks like Luke Bryan and Lionel Richie will be lending a helping hand to some of the contestants. Luke even plays the guitar for Cody Winkler's audition.
Friends and family also seem to get involved in this episode, as we see Matt Wilson and Jon Wayne Hatfield with friends or family members before their auditions.
Continuing with the previews, American Idol also posted two brand new audition clips on its social media pages. American Idol 2023 night one contestants Luke Bryan, L. Richie, and Katey Parry all get snippets of their auditions shown. 
16-year-old Haven Madison also got a little clip of her audition featured on the Idol page.
Along with showing these contestants, it was announced that Allen Stone and Noah Cyrus will be mentors on this season of American Idol. Are you excited to see them mentor?
Check out the American Idol 2023 night 2 photos below.
Click the images for a closer look at the American Idol 2023 night two auditions.
Tune in to the American Idol 2023 premiere on Sunday, February 19 at 8/7c. Also, join us tomorrow for a full live recap of the American Idol 21 premiere! Make sure to follow American Idol Net on Facebook and Twitter for all updates.