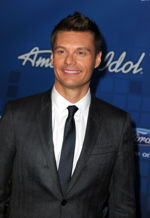 American Idol host Ryan Seacrest is recovering from surgery after a procedure to remove scar tissue from his elbow. The surgery took place this past Wednesday following the live American Idol 2012 performance show.
Seacrest had previously injured his arm doing leaping high-fives with Shannon Magrane working out at the gym. He explained the brief surgery the next morning on his radio show:
"I had a probe stuck into my right elbow. They went in with a tiny little probe and they scraped some scar tissue from the tendon, cause I tore the tendon from working out. I couldn't look. But could feel the pressure."
Ryan Seacrest is an unstoppable, hard-working machine to squeeze that surgery in between live shows and go on like nothing had happened. Glad to hear all is now well for America's favorite host. Now get back to faking out Colton Dixon each week during the results show, Ryan!