This morning I had the opportunity to talk with runner up from Season four of American Idol Bo Bice about his newly released album '3', his new haircut, his family and his favorite American Idol contestant from this season.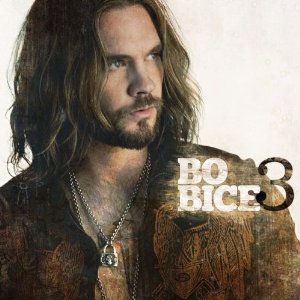 Ash: Why did you cut off all your hair?
BB:  Well it was time for a change and I didn't cut it all off.  I just got a little bit of a trim, more of a trim than I had last time. It's time for a change just like everything else you know, there comes a time when you need to do a little bit of something different.
Ash: Your single, A Long Road Back, you're donating the proceeds to the victims of the flooding in Nashville, Were you directly affected by the floods?
BB: So minimally that I hardly like to talk about it because there's been so many folks that were just devastated by loss.  We got a three day rain that unless you were there to witness it, it was, you know I don't mean to up play or down play it but it was almost of Biblical proportions, I was about ready to make my own ark. We live up on a hill and several folks around us, their basements were flooded and things like that so we you know we had our other neighbor's driveway totally washed out from three days worth of rain…. So that's the kind of thing that we're dealing with….We all pitched in to help one another because of our love for our city and our love for what the people in that city provide….When you have artists like Vince Gill put on a benefit and so many different people putting on benefits for the city, I'm putting one on June 12 in town and when you got all these people who pitch in, Taylor Swift gave $500,000.00 at the benefit and you know I didn't see ole Kanye West writing any checks so I'm pretty happy that that's a testament to Taylor and to artists that live there because they love their city and they love the people that are there and as a community we're going to get through this together and that's been our war cry.
Ash:  On your album you have song called "Different Shades of Blue" and it seems to me to be about overcoming challenges and so many people can relate to that.  Was that what you were thinking about when writing the song?
BB:  Oh very much so.   Number one I wrote that song with Greg Barnhill, he's a friend of mine and an incredible writer and I don't know how I got hooked up writing with Greg Barnhill, he's just incredible and has had so many hits and so many people have sung songs of his. To be quite candid there's people who do know. I struggled with drugs and alcohol when I was a younger guy. Really that's how a lot of us songwriters do, we delve into ourselves and into the things that made us who we are and a lot of the time it's tragedy that's made you who you are because you learn from those style of things. So for me it just kind of paints that picture you know the brokenness of a man sitting in the glare of the neon smoke in a bar with that neon sign shining down. It's just from the first verse to the second verse, my inspiration on the second verse might have been different from Greg's but my inspiration was when my Grandmother passed away, talking about the "cold dark pewter of the casket rail, there's not too much these eyes ain't seen between the yellow and the green." That's very much digging in to the heart of what's made me who I am and like I said, I can't take credit for all the song but I'm throwing out what MY inspiration was and my side of how things arrived for the song. But I think that's probably the best way to sum it up just picking little pieces of moments in my life and it's very therapeutic to be able to look back and to delve into those things that were times you hurt. You know relationships or like I said, struggling with dependency or struggling with family passing. These are ways that you can reach in and you pull that out of your soul and it's almost like you've made the amends to yourself and in some ways I think we also help people who might struggle with those kinds of situations and that's what music does.
Ash:  You've released your single, "You Take Yourself With You" what would you like to release as your next single?
BB:  Hmmm "You Take Yourself With You" is such a story. It's the story of leaving home for me and my friend D. Scott and so it's very personal. But I'm going to have to tell you exactly what I told my partner in this record, Saguaro Road which is under the umbrella of Time Warner/ Time Life, and when I was talking to Boss from the label and he asked me 'What song do you think needs to be the first single?' And this is the first time I've ever been able to say this because it truly was a labor of love, and I just looked at him and said "Boss (well actually I didn't look at him because he was on the phone) but I said Boss, I don't care what song you pick because I love every one of them on this cd" and I've never been able to say that.
Ash:  With your son, Ean Jacob just being born, What's it like to have 3 boys running around?
BB:  Well each day is a new blessing. It makes me grow each day.  I've learned more from them than I have in my lifetime. And it's because I've seen the grace of God in them, everyday lighting up their eyes and I see the innocence and the newness in their eyes so I think each day it's taught me not to take the blessings for granted and to try to be a better man so that my sons are proud.
Ash:  Is it hard for you to balance your family life and your career?
BB:  I've got such a cool relationship with my wife and kids. It's just cool man.  I think the marriage life, the kids and stuff, that's my job. For me, God first, family next and then this business and if it ever gets out of that order I probably need to quit doing the music and get back to those first two things because they're what's more important.
Ash:  Have you seen any of this current season of American Idol?
BB:  I have. I get to watch when I can and I also watch vicariously through my wife. She fills me in if I've missed anything. I like to know who's going to be a part of my alumni so that's part of the reason why I go back every year and you see me at the finale. I'll go back and sit in the audience at the finale this year.
Ash: 
If you could choose one artist from this season to be your opening act who would it be?
BB:  I think everybody would probably think I'm going to choose Casey James because we play the same kind of music and that would make more sense. You know what I'm saying like that would make a sensible line up, people would go oh ok yeah I would go see that because that guy plays blues and rock and I play country and Southern rock. If I was going to pick somebody, my favorite was Michael, Michael Lynche and Michael got voted off, he's number four. He's one of my favorites though and I just really dug him and I met him when I was up in New York doing some press this week and I can tell all you people out there that he's as sweet and kind as he was on television so I was a fan before I met him and now I'm an even bigger fan. But I would still go out on the road with Casey. I like Casey nothing against you. And maybe Casey and I just need to go out.
Ash:  Do you still talk to Carrie Underwood or anyone else from your season? BB:  I do. I talk to several folks not only from my season but alumni from other seasons. Melinda Dolittle sang on this cd. She did backgrounds on "Get On And Ride" and also there's a song, that's going to be a bonus track called "If I Told You I Loved You". She sang on that also. I met all kinds of people. Bucky Covington's come over to the house for dinner a few times. There's a lot of Nashville folks that I run into, Mandissa, Phil Stacey, Jon Peter Lewis who I've seen who's a sweetheart, Michael Johns. So yeah I try to keep up with a lot of these folks.
To listen to Bo's new album go to AOL music.