I have been dreading this day when I have to say goodbye to my favorite Casey James. (sniff!)  Yesterday on the American Idol results show we found out that the two people singing in the finale are Lee Dewyze and Crystal Bowersox.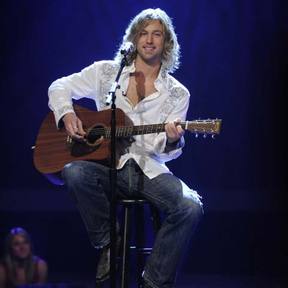 I loved Casey for so many reasons and yes one was the eye candy he provided twice a week lol.  Another was the humility he displayed.  He was thankful for the opportunity and let us all know it was an amazing jouney.  He sang "Daughters" to close the show and walked out in the crowd and hugged his fans and carried a little girl and sang the song to her.  A touching moment.  
But, foremost was his outstanding musicianship.  He can play the hell out of the guitar and for those who think he is just some back up in a band don't really know much about music.  To be able to play lead while singing is a hard thing to do and he did it well.  Like Randy said, he is the guitarist they have ever had on the show.  Not only that but he has the vocals to go along with it.  I will be the first to admit that he chose the wrong songs probably half the time but when he got one right, it was really great.  As he grows as an artist and finds his niche he will make it big in the music industry.  Of this I have no doubt.  So all you Casey fans out there don't worry.  We will be hearing from him again.