American Idol ratings took a nose dive on Tuesday night on a night of painful eliminations and disappointing performances. The Top 15 girls were slashed down to just ten ladies in a new twist this season that left some viewers swearing they were done with watching this season. That isn't good news for American Idol 2014 ratings, which are currently being beaten to a pulp by the Sochi Winter Olympics.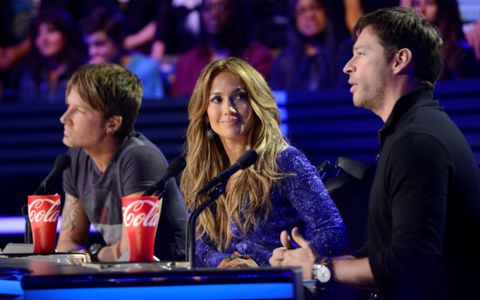 Last night's two-hour Tuesday special episode of American Idol season 13 was down sharply in the ratings compared to the previous Thursday, falling by 3 percent based on early numbers from Nielsen. Even worse, Idol fell a whopping 7 percent in the advertiser-coveted 18 to 49-year-old range. It is reasonable to expect something of a fall because the show aired on a night it usually doesn't, but this was more like a drunken crash.
NBC's coverage of the Sochi Olympics easily scorched the American Idol ratings on Tuesday. FOX scored only 9.63 million viewers overall for Idol, while the NBC Olympics in the same time period brought in 18.47 million. While we expect the numbers to go up for the regular Wednesday evening showing, it's worth noting that the show will be up against female figure skating tonight, one of the Winter Olympics' most watched events.