The American Idol 2014 Top 15 girls took the stage tonight, but only 10 of them actually performed for your votes in the semifinals. Five of the ladies will be sent home by American Idol judges Keith Urban, Harry Connick Jr., and Jennifer Lopez without ever getting to face the public vote.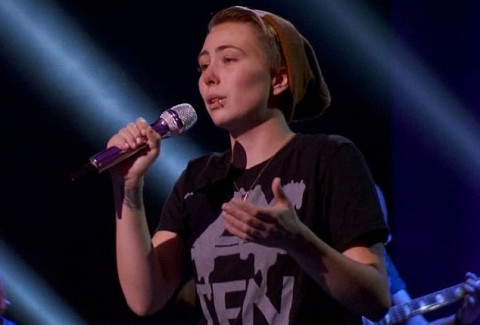 Our live American Idol recap tonight is sure to be full of plenty of drama when the Top 15 female contestants are suddenly slashed down to just 10 girls left in the competition. We've already made our predictions about who will be eliminated by the judges tonight, now we just have to wait and see how it all goes down.
In case you need a refresher of the American Idol 2014 Top 15 girls still in the competition, here's who will be facing the chopping block tonight:
Austin Wolfe, Brandy Neelly, Briana Oakley, Bria Anai Johnson, Emily Piriz, Jillian Jensen, Kristen O'Connor, Andrina Brogden, MK Nobilette, Jena Ascuitto, Jess Meuse, Kenzie Hall, Majesty Rose York, Malaya Watson, and Marrialle Sellars.
Who will be the ones who got eliminated on American Idol by the judges tonight? Which 10 ladies will you get to vote for to move on to the Top 13? Read on for our recap!
And here we go! We start off tonight with a refresher on the Top 15 girls. One of these ladies could be your next American Idol. But only ten of them will actually get to perform for America's votes tonight. Five of the girls will be sent home. The judges will only call up the ten they want to have the chance to move on to the Top 13. The rest will be eliminated.
To help prepare the contestants for the competition and their future in the music industry, American Idol 2014 has brought back former judge Randy Jackson to mentor the singers. He says he wanted to give the contestants the best advantage they could get to win this competition by helping them to grow from their critiques and helping the judges find the next superstar.
In Randy Jackson's Boot Camp, the contestants are given lots of help from vocal coaches and others, including — interestingly — a set of spiritual advisors! They also get love from former American Idol finalists Chris Daughtry and Adam Lambert.
Now finally we move on to the performances!
The first singer up tonight is Majesty Rose York, who auditioned in Atlanta. She starts off maybe a tiny bit slow for just a few words, but then she just explodes out with personality and awesome vocals. She's on fire! We have virtually no doubt at all that Majesty York will be in the Top 13 girls!
Majesty Rose sings "Happy" by Pharrell
Text 1 to 83676
Call 1-855-4-IDOL-01 (1-855-443-6501)
Up next is someone the American Idol judges thought early on could have the whole package, nurse Kristen O'Connor. We're a bit surprised that she was picked by the judges. We thought she would be one of the five eliminated tonight. She must have been great in boot camp! Sadly, we can't say the same about her performance tonight. It's frankly terrible and we feel like the judges wasted a spot they could have given someone else.
Kristen O'Connor sings "Turning Tables" by Adele
Text 2 to 83676
Call 1-855-4-IDOL-02 (1-855-443-6502)
Keith Urban says the next girl up tonight is from San Francisco and had a lot of fire and passion in her audition — Briana Oakley! She takes a few moments to warm up to the song, but ends up blowing it out toward the end. She drops the last note a tiny bit, but overall it is a terrific performance. We think she totally deserves to go to Top 13.
Briana Oakley sings "Warrior" by Demi Lovato
Text 3 to 83676
Call 1-855-4-IDOL-03 (1-855-443-6503)
Now we have Jena Ascuitto, who pronounces her name like 'Gina' for those who hadn't hear that by now. We've really liked Jena from the beginning and it's great to see her in the Top 10 girls. However, we feel the performance is a little rough and strained in places. She kills it at the end, but we don't think it is her best performance. Jennifer Lopez calls her "kind of a badass" and we agree.
Jena Ascuitto sings "Paint It Black" by The Rolling Stones
Text 4 to 83676
Call 1-855-4-IDOL-04 (1-855-443-6504)
Next up the judges have decided they want to hear Bria Anai Johnson (or 'Lips' as she's been nicknamed) from Atlanta. Another surprise pick to us, as we probably would not have chosen her based on her previous performances. We're not loving this one either as it sounds pitchy and oversung to us. She sounded like she was off the music in places as well.
Bria Anai Johnson sings "Wrong Side Of A Love Song" by Melanie Fiona
Text 5 to 83676
Call 1-855-4-IDOL-05 (1-855-443-6505)
Keith Urban says the next contestant walked into her audition looking like a star. Now singing for your votes is Marrialle Sellars! Or, as we know her, the girl with more screen time than any other singer this season so far that reminds us too much of Miley Cyrus. Sadly, she is just terrible in our opinion. It's like she's just talking through the song, not even singing. It's bad karaoke. We regret she got this spot and not another girl.
Marrialle Sellars sings "Roar" by Katy Perry
Text 6 to 83676
Call 1-855-4-IDOL-06 (1-855-443-6506)
We've been waiting for her all night, the girl we have nicknamed "Pinky" in our Idol Chat Room — Jessica Meuse! J-Lo introduced her as a "real original" and we agree. This just might be the best performance of the night, although we don't really love the song choice. We think "Pinky" deserves the votes to go through to the Top 13. We do hope, however, that she goes back to rock and steers away from the country a bit.
Jess Meuse sings "Drink a Beer" by Luke Bryan
Text 7 to 83676
Call 1-855-4-IDOL-07 (1-855-443-6507)
Just three more ladies to go tonight and the rest who are not chosen will be eliminated. Next up is Emily Piriz, another girl we didn't think would get through tonight. She was great in Hollywood Week, but she just seems to be a bit flat in personality, even though she has a lovely voice. The performance is technically good, but it just doesn't hit us in the gut.
Emily Piriz sings "Paris (Ooh La La)" by Grace Potter
Text 8 to 83676
Call 1-855-4-IDOL-08 (1-855-443-6508)
We would like to believe the judges' next pick is all about her fantastic voice, but we think a lot of viewers are going to believe it is about the 'gay' thing. Up next is MK Nobilette, who is indeed a lesbian, but also happens to have a great voice. While we don't think she had the best performance of the night, we certainly think she is in the top five of the evening considering the big failures of some of the earlier girls.
MK Nobilette sings "All of Me" by John Legend
Text 9 to 83676
Call 1-855-4-IDOL-09 (1-855-443-6509)
It's time for our very last choice from the American Idol judges for the 2014 Top 10 girls. Six ladies left and only one spot. Who will they choose? The final spot goes to…
Before we find out, we break for commercial and then find out which of the two guys America voted between will go to the Top 15 guys for tomorrow night. In the battle between Neco Starr and Ben Briley, the winner is… as we predicted… Ben!
Now, back to our final girl of the evening and the judges have chosen — and we just keep getting surprised tonight — Malaya Watson! We are shocked over who has been left sitting in the back and will be eliminated, but Malaya does give a very strong performance. We feel she oversung it a bit, but it is certainly one of the best of the night once she gets over a few rough spots in the beginning.
Malaya Watson sings "Hard Times" by Ray Charles
Text 10 to 83676
Call 1-855-4-IDOL-10 (1-855-443-6510)
So that means the ladies who have been eliminated tonight are: Brandy Neelly, Andrina Brogden, Austin Wolfe, Jillian Jensen, and Kenzie Hall.
Do you agree with who the judges eliminated tonight? Which girls will you be voting for to move on to the Top 13?