Looks like American Idol ratings are on the rise! After losing viewers for several weeks in a row, the magic of Hollywood Week seems to have brought some fans back into the fold this week. American Idol 2014 Hollywood Week kicked off on Wednesday night with the first gain in ratings so far this season.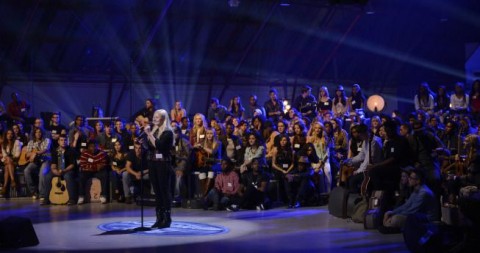 According to Zap2It.com, American Idol ratings for Wednesday night rose a tenth of a point among adults 18 to 49 compared to last Wednesday. This is good news for the show considering that last year Idol just kept dropping for thirteen weeks straight after the season premiere.
With American Idol season 13 ratings up seven percent over last week, according to the LATimes.com, we're betting producers are probably feeling pretty good, even if the show doesn't command nearly the power it once did. Overall, the show brought in 13.3 million viewers and a 3.9 rating in the 18 to 49 age range, which was three percent over last week in that advertiser-coveted group.
We're guessing the combination of the new American Idol judges, some strong talent this year, and the big Hollywood or Home round addition twist last night probably accounted for the the uptick in ratings.
With the help of the boost in American Idol 2014 ratings, FOX managed to win overall across the board on Wednesday night. Now that's what we're talking about! We can only hope the viewers will be back again this evening as the infamous group performances begin.