The grueling journey of American Idol 2014 Hollywood Week kicks off tonight with a surprise "Hollywood or Home" elimination round the contestants have no idea is coming. Over 200 Golden Ticket winners arrived in Los Angeles, but some of them won't even make it to the hotel!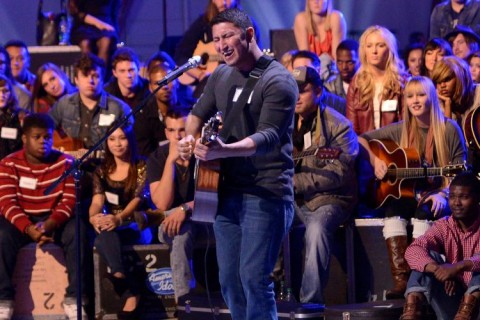 In a new twist this season, some of the American Idol season 13 contestants will have to face a sudden death elimination "Hollywood or Home" round inside of an airplane hanger before they even get to unpack their bags.
The hopefuls who did not manage to get three yes votes in the audition round will have to sing again for the American Idol judges to prove they really do belong in Hollywood Week. The lucky singers who did get three yes votes will get an automatic pass.
We hear this round is going to be brutal and many of the singers who are forced to prove their worth in front of Harry Connick Jr., Jennifer Lopez, and Keith Urban will be turning right around and going home. The rest will move on to the next stage of Hollywood Week and give a solo performance at the Dolby Theatre to determine who will make it to the infamous group round.
Hollywood Week – Hollywood or Home Round
The American Idol judges have been reviewing the auditions and they have decided some of the singers will have to perform again before they can move on. They've set up a massive space inside an airport hanger and gathered the hopefuls around in a circle. They caution that there will be cuts and everyone needs to take this very seriously.
Up first is Johnny Newcomb, who wasn't one of Harry Connick Jr.'s favorites back in the auditions round. He's singing "Pumped Up Kicks" by Foster the People.
We'll have to wait and see if he makes it through, but we weren't impressed. Next up we see performances from Connor Zwetsch, Ali Henderson, and Caitlin Johnson. Of the three of them, Connor does the best job and we hope she will get through but the other two, not so much.
After a bunch of really terrible performances that fly by way too fast to catch names or faces, we have sound healer Adam Roth with "Radioactive" by Imagine Dragons. It's not too bad really, but it sparks a big arguement with the American Idol judges about whether he deserves to move on or not.
Tristen Langley is the first second generation American Idol contestant. He's the son of season one 3rd place finalist Nikki McKibbin. The judges are very on the fence about him, but we don't know their decision yet.
Now we have Morgan Deplitch, who we really liked in auditions, but she is not sounding very good at all now. The other contestants who come up after her, Stephanie Petronelli and Rich Lafleur,  aren't good at all either. So far we're really not hearing a lot of people who should get another chance.
Then, finally, we get some good performances, including Eric Wood and Neco Starr. Eric is really fabulous on "She Talks to Angels" and he deserves to go through. Neco has a few pitch issues with "Gorilla" by Bruno Mars but overall is not bad and we'd give him another chance.
Next to last for the evening is Alyssa Siebkin, who does an okay job with her performance, but we aren't particularly thrilled. At this point, the judges have seen 51 contestants, but they still have one more contestant to see. The girl with the mysteriously vanishing accent, Khristian D'avis. She does not redeem herself with her performance at all.
The judges dismiss everyone they did not bring up to sing, 160 contestants, telling them they are safe for the day. Then they split up the 52 contestants that had to sing into two groups. One will go through, one will not. There are two buses outside of the door. One bus will go to the hotel in Hollywood. The other will take the contestants to fly back home. The hopefuls head out and load onto the buses, not knowing which bus is which.
Then, the riders on one of the buses see they are back at the airport and they won't be going through to the next round. The other bus is told they are the ones going to Hollywood and mass screaming ensues before they pour out at the hotel to join the others already there.
But the brutal competition of Hollywood Week will start first thing in the morning at the historic Dolby Theatre, where five former American Idol winners have been crowned.
Hollywood Week – Solo Round A Capella or Instrument
With their families out in the audience, it is a do or die performance for the contestants. Each singer will get to perform one solo song either a cappela, or with an instrument. First up is Majesty York, who really wowed the judges with her original audition.
Samantha Calmes also gives a lovely performances, although we wish someone would please her her out of the slouchy flannel. John Fox makes us very happy about his song as well, even if his face turns bright red. Brandy Neelly also seems to please the judges with her sweet, clear voice.
Sandie Lee, Brandy, Majesty, and John all go through to the next round. Samantha does not, which is a bit of a shame. We liked her.
Now we have Spencer Lloyd at the keyboard singing "Say Something" for the judges. J-Lo appears to be in love and we know he's going to get through. And he does… no problem.
Next up is Austin Wolfe, Bria Anai Johnson, and Selena Moreno (who auditioned with her twin sister who didn't make it). The first two give really stellar performances and we think the judges can't help but put them through. The last girl, however, starts off shaky and then veers right into the ditch when her voice gives out on her. It's a real crash and burn moment.
Through to the next round from this group are Jessica Meuse, Bria Anai, and Austin. Selena does not make it. Also eliminated is Lauren Ogburn, who says she'll be back again next year.
Sam Woolf is our next hopeful to perform with his grandpa in the audience supporting him. The judges seem pretty happy with him.
Next is Keri Lynn Roche, who we really liked in the audition round. She sounds fabulous again and we are loving on her.
So does C. J. Harris. Everyone in our live chat room is voting YES left and right for him! Jennifer Lopez gives him a loud yes and a standing ovation. Whoever is in the group with C. J. is going through. The judges tease the others by having him step forward and then back to confuse them about who is going through.
Ayla Stackhouse and John Martin head home while Keri, C. J. and Sam move to the next round while we move on to the next group, including 20 year old Alex Preston. Once again he shows he is a true musical artist with some wicked guitar licks and a terrific vocal.
After him we have Sydney Arterbridge, who is good but a little weird sounding. She's followed by Jesse Roach, who just has a gorgeous, raspy rock and roll voice and football star turned musician Bryan Watt. Unfortunately, Jade Lathan, Bryan and Sydney are eliminated, but Jesse and Alex make it to the next round.
After the break, we learn that Madelyn Patterson has also made it to Hollywood before we watch the next performer, Kenzie Hall, absolutely throws it down. She's just fabulous and she has to go through.
Not so good is 21 year old Quaid Edwards. In fact, he's just really not hot at all. Kenzie is the only person who makes it through this group.
Ben Briley, Briston Maroney, and Dexter Roberts are next up. The three guys are a very interesting group. Dexter asks Keith to play his guitar and he grabs it and slams on it. It's awesome. All three guys are through to the next round.
Next up is Rachel Rolleri, followed by Maurice Townsend and Casey Thrasher. Casey has a gorgeous, classic country sound and he's golden. All of them get yes votes from the judges. George Lovett, Tiquila Wilson, Emily Piriz, and Malcolm Allen are all also through to the group round.
And now it is time for a comedy break with Munfarid Zaidi, who was "cradled" by judge Harry Connick Jr. during his audition. He's a riot and we love him, even if he's not the most awesome singer in the world. Munfarid is followed by Ethan Thompson and Austin Percario, both of whom do a good job. All of them are through and Munfarid gets "cradled" again by his fellow contestants.
Another group is up and we have Caleb Johnson, who does a smashing job with "Sympathy for the Devil" and we know he'll make it. Stephanie Hanvey is kind of boring on 'Girl on Fire" but Kristen O'Connor sounds good on "Nobody's Perfect." The judges decide all three are worth another listen and they are through to the group round.
Emmanuel Jay Zidor is the next singer to be featured and we liked him in the audition rounds. However, his performance of "And I'm Telling You I'm Not Going" feels a little weak to us. The judges pass him through anyway though. We hope he does better in the group segment.
More yes votes for Briana Oakley and Jesse Cline, who both deserve the support from the judges.
After them we have Keith London, who gets J-Lo riled up with his not-so-great performance of "If I Were a Boy" and she chatters at Harry the whole time he is singing. They have him sing something else and he does a nicer job with "Same Love" and gets through to the next round. Some other folks get through as well but it's much too fast for us to follow.
Wrapping up the first solo round we have Malaya Watson, who sings "Brand New Me" by Alicia Keys, and Jena Asciutto with "Video Games" by Lana Del Ray. Love both these ladies.
They are followed up by Savion Wright with "Breathing Underwater" by Marie Digby, which he dedicates to his late brother. These are three of the best of the night and all of them get through to the next round.
After it is all over and done, 160 contestants are cut down to just 104 remaining singers for group day. The American Idol judges tell the hopefuls they will have to form groups of three or four and choose a song from a list given to them. And now the group day madness begins!
Hollywood Week, Group Round
Dexter Roberts, Casey Thrasher, and Ben Briley quickly form up into a group. We think that is probably a good decision on their part. Many of the other singers are just thrown into utter chaos as they try to group up and get with a vocal coach.
Rocker Jessica Meuse is already in trouble with her group as one of them is losing her voice and another one can't stay on pitch. Other singers can't find groups to join. Some groups are already arguing. The drama is quickly rising to a fever pitch.
One of the guys in Jessica's group quits because he is too sick, so she and a guy named Matthew go off to find new people to group up with. It's scary to be without a group so late in the game because it's hard to gel with people at this point.
Jessica tries to get with Casey, Dexter and Ben but they aren't going for it. Matthew finds a group with Caleb Johnson and C. J. Harris, calling themselves the Freedom Breeders.
Emmanuel Zidor and Carmen Delgina (Love's Angels), meanwhile, lose group members M. K. Nobilette and Terrica Curry, when they decide to bail and go elsewhere. What a mess! The next morning, Emmanuel finally has his group together but one of the members is missing. They find her in her room still and wow is it all kinds of diva and drama going on.
The groups are also just a disaster all around with people off pitch, forgetting lyrics and looking like a train wreck on legs, including poor Sam Woolf who has two left feet.
We just can't even imagine what kind of crazy tomorrow night's group round is going to be…
Full Hollywood Week Rounds 1 & 2 Video Recap:
And that's a wrap for tonight! Join us here again on Thursday night for our next live recap!
>> Next: American Idol 2014: Hollywood Week Performances — Group Round [VIDEOS]